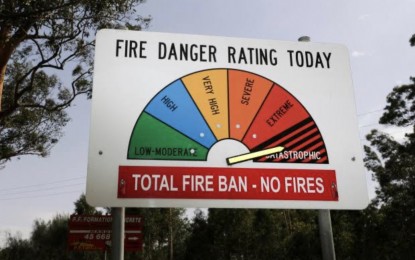 SYDNEY, Australia – Various government disaster response agencies in Australia believe that the media, especially the government media, plays a very significant role in mitigating the negative effect of disasters such as typhoon, floods and fire, among others, through effective emergency broadcasting.
Select members of the government media from the Philippine News Agency, Philippine Information Agency, Philippine Broadcasting Service, People's Television Network, and Radio Television Malacañang are currently attending a study tour in Australia on emergency broadcasting.
The project, according to Rob Batten of the Australian Broadcasting Corporation (ABC), was requested by the Philippine government way back in 2019, to strengthen the government's emergency response with the help of the government media.
Meanwhile, during a visit with Australia's Fire Service, Ben Shepard, Media Manager of the Rural Fire Service State Operations Center in Homebush, Sydney explained how they value the help of the media in getting across emergency information and warning.
"I think it's crucial because we use the media as a tool to help us disseminate those warnings and especially information," Sheperd said adding, "We know that during disasters people switch on their TV, listen to the radio and look at websites so it's crucial that they have an understanding of what's going on, they have the right information so that they could help us actually publish it and push it out there so that people can make an informed decision on what they're going to do during the disaster".
To have a better grasp of their actual work in the fire service, Sheperd said their agency conducts regular training for media members.
This way, he said, not only the media is able to understand the danger of their work, but moreover, this training makes the media know how to keep themselves safe in times of emergencies.
At their operation center, the fire service has built media booths where broadcasting may be done live.
He said that updates are given to the media on a timely and regular basis and that they make themselves available to the media for interviews.
"If we don't give the information to the media, they might source them from somewhere, that is why it is better if the information comes from us to make sure that they are correct," Sheperd said.
The Bureau of Meteorology, for its part, briefed the participants on their job in weather forecasting to inform the public ahead of time of any upcoming cyclones or flooding.
Jane Goulding said that they try to keep an active relationship with the media to push the message across when disasters are coming and tell the people when it's time to evacuate and leave their homes to keep them safe. (PNA)