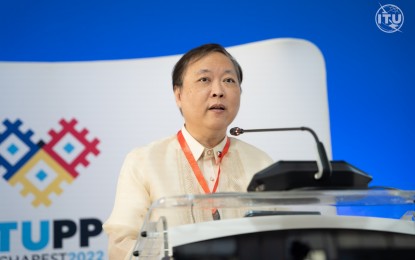 MANILA – The Department of Information and Communications Technology (DICT) has assured senators that the National Broadband Plan (NBP) will start serving the public by mid-2023.
The assurance was made through Senator Grace Poe as she was defending the PHP8.7 billion proposed 2023 budget of DICT.
"Phase 1 of NBP, which is now 73 percent complete, involves activating 28 nodes of the national fiber backbone located in 12 provinces between the cities of Laoag and Quezon. Well, this is some good news, mid-next year Laoag to Quezon City. So, tingnan natin (let's see)," Poe said Wednesday evening in answering Senate Minority Leader Aquilino Pimentel III's questions on the results of Phase 1 of the NBP.
She said the country needs an ICT backbone to catch up with the current technology trend and save money for the government as well.
"Not only is it a backbone for use by the government. It can also be leased out to the private companies, like Globe and Smart. So, pwede rin tayong kumita (we can also earn)," Poe said.
Pimentel, who expressed his concern about the project, asked DICT Secretary Ivan John Uy if it is practical to pursue completing the NBP when there are private companies that could provide the government with their established ICT backbone.
"Should we still aspire for our own national backbone, which we can only fund at 2 percent a year? Meaning to say, we will complete that backbone in 20 to 30 years. Upon completion, it is still not complete because obsolete na yung nasa umpisa (the first phase is already obsolete)," he asked.
Poe said the NBP would provide the government the contingency it needs and would not put the government at the mercy of private service providers.
"The government itself is a large enterprise and as a loan, with all the government offices, will really benefit on having its own network. Even if we do this in phases, like for example Laoag to Quezon City, even if the other phases are not completed yet, the phase that has been completed can already be operational," she clarified.
Initiated five years ago, the NBP aims to provide faster, more efficient, and equitable broadband connectivity for the Philippines, including its remote areas.
As of August this year, the DICT has provided high-speed broadband connection to 981 government offices in 13 provinces.
Based on the recent network readiness index of the World Economic Forum, the Internet speed in the Philippines has improved, moving up from the 83rd slot to the 71st.
The NBP, which has five phases, is estimated to cost PHP100 billion, which has been funded by the government with about PHP5 billion so far.
Poe, who had successfully defended the PHP11.32 billion proposed 2023 budget of the DICT, also welcomed the proposal to grant intelligence funds to the DICT so it could monitor and shield the country from possible cyber-attacks. (PNA)