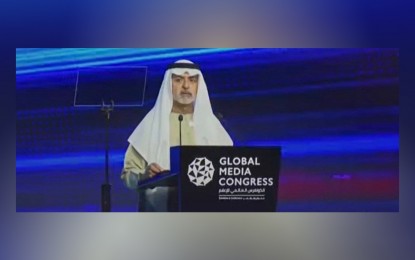 ABU DHABI, United Arab Emirates – The media is urged to fight intolerance and promote human diversity.
On the second day of the Global Media Congress here, UAE Minister for Tolerance and Coexistence Sheikh Nahyan bin Mubarak Al Nahyan said the media has the duty and responsibility to spread awareness about other cultures and belief systems.
"You have the responsibility and duty to help the readers, listeners, viewers to get to know the cultures of others and to be open to that. Diversity is a source of strength for human societies," he said.
Sheikh Nahyan highlighted the inclusion efforts of the UAE which includes the signing of the Document on Human Fraternity in 2019 with Pope Francis and the establishment of a ministry aimed to safeguard and promote inclusion.
"Our experience here in UAE shows that efforts in strengthening of values should not be limited to theoretical dialogues but an open door for practical implementation. It is also a strong expression of faith and hope in the future," he said.
Journalists at the GMC panel discussing the role of media in creating tolerant societies also saw the need for education and training to promote diversity and fraternity.
Lucio Adrian Ruiz, secretary of the dicastery for communication at the Vatican, said people must learn to value differences first within the family, with parents and siblings.
"But families are not enough to create a tolerant society. Organizations must reinforce these teachings and highlight the need for respect and dialogue," he said.
Meanwhile, former Manila Archbishop Cardinal Luis Antonio Tagle, Pro-Prefect of the Dicastery for Evangelization and member of the Zayed Award for Human Fraternity's 2023 Judging Committee said that it is in times of conflict that the world seeks to promote harmony and peaceful coexistence.
"There is no doubt in my mind that we can achieve this. However, in order to do so, we must all play our part. The media shoulders an important responsibility in this collaborative effort. Journalists who are fair, balanced, and unbiased, can restore faith and trust among communities; factors that are integral for meaningful, sustainable peace," he said in a statement.
He said the media is an imperative tool to communicate with the public.
"Leaders now need to look at social media as an opportunity to change attitudes and promote human fraternity through direct communication with the public," he said.
The Zayed Award for Human Fraternity is an annual independent international award that recognizes people and entities who are working across divides to advance the values of solidarity, integrity, fairness and create breakthroughs towards peaceful coexistence.
It is closing its nominations for this year's award cycle at the end of November. The awarding ceremony is set to take place in the first quarter of next year. (PNA)