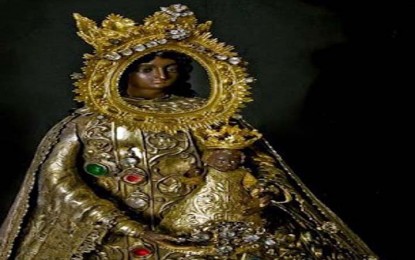 MANILA – Now that the number of cases of coronavirus disease (Covid-19) continues to drop, Cubao Archbishop Ness Ongtioco Wednesday urged the Catholic faithful to revive their faith by going back to church.
In a Homily at the end of the 9-day Novena to Nuestra Señora de la Salud (Our Lady of Health) at the San Nicolas Catholic Church in Quezon City, Ongtioco encouraged the Filipinos to reconnect and reboot themselves by going to church and commune with others.
"We need to refresh our faith," Ongtioco said, echoing the earlier appeal of the Catholic Bishops' Conference of the Philippines (CBCP) for the faithful to go back to Church since the situation in most places has improved and the restriction has eased up.
"We are asked to come back to Church, to once again experience what it means to be a community (which) is to be in communion with others, to participate in God's plan of salvation, and to live with a mission. Let us refresh, reconnect and reboot ourselves," Ongtioco said.
He said practicing Catholics should receive sacraments in person.
The archbishop also asked those who are accustomed to attending masses through live streaming should cease doing this activity and instead join the other faithful in praying and worshiping God inside the church.
Ongtioco also cited the important role of Nuestra Señora de la Salud, the other name of the Blessed Virgin Mary, in containing the spread of Covid-19 in the Philippines and healing of many Filipinos who had contracted the disease.
The Catholic Church revived the devotion to the miraculous image of Nuestra Señora de la Salud in 2016 after it was hidden from public veneration for 72 years.
It was in 1634 when the image was brought to the Philippines by the Spaniards. (PNA)