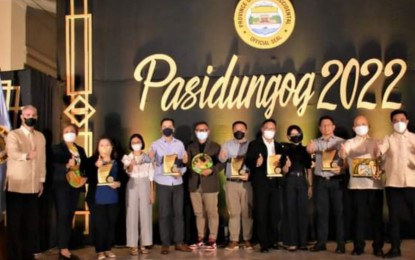 BACOLOD CITY – The Negros Occidental provincial government has honored its top corporate and individual real property taxpayers as heroes in the province's efforts toward recovery from the coronavirus disease 2019 (Covid-19) pandemic.
Governor Eugenio Jose Lacson led the recognition for the 10 awardees during the "Pasidungog sa mga Bag-o nga Baganihan sang Probinsiya" (Awards for the New Heroes of the Province) ceremony at the Provincial Capitol Social Hall here Wednesday night.
"As we pursue recovery from the adverse consequences of the Covid-19 crisis and gradually ease into the new normal, the need to raise resources is of paramont importance, thus taxation. For this year's, Pasidungog we acknowledge our outstanding corporate and individual taxpayers," Lacson said in his message.
The 2022 awardees in the corporate category were the Negros Island Solar Power Inc., Binalbagan-Isabela Sugar Company, Manapla Sun Power Development Corp., Asian Alcohol Corp., and Tanduay Distillers Inc. while those in the individual category included Ricardo C. Silverio, et. al, Apolinario D. Rijon, Rachel B. Tan, Ervin A. Maravilla Jr., and Abelardo D. Bantug III.
"We often associate heroism with extraordinary actions. However, as times change, so must our view. While there is patent heroism in the rising up of arms against those who threaten our freedom, there is also honor and heroism in the honest fulfillment of duties," Lacson said.
The governor thanked the outstanding taxpayers for dutifully and religiously meeting their respective real property tax dues as he underscored that proper and unhindered collection of taxes, which is the lifeblood of the government, is of utmost importance.
"Be assured that your taxes are being used sensibly and judiciously for the greatest possible benefit to our people and province," he added.
In the past years, the province has honored outstanding Negrenses in their respective fields of expertise and endeavor.
Last year, it recognized the offices and groups that showed unwavering courage, commitment and consistency in service of the province and its people during the pandemic.
The awards are given as part of the province's Al Cinco de Noviembre or Negros Day celebration every Nov. 5 to commemorate the Negrenses' revolt against Spanish colonizers in 1898. (PNA)