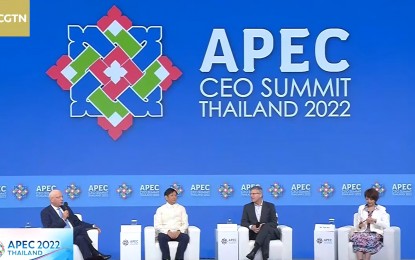 MANILA – President Ferdinand R. Marcos Jr. on Thursday called on his fellow leaders of the Asia Pacific Economic Cooperation (APEC) to continue encouraging innovations, adding that this would help businesses thrive.
"We cannot be too married to the ideas that we were holding as truths before and we have to be willing to make big changes but with the recognition that from what is happening around the world," Marcos said during the question-and-answer segment of the APEC CEO Summit in Bangkok, Thailand.
Building on a point made by World Economic Forum (WEF) founder and executive chairperson Klaus Schwab, he underscored the need to make "structural changes" as this is needed to help accelerate post-pandemic economic growth.
"But when we make these structural changes, I'd like to pick up on the point that Dr. Schwab made on innovation... We must still continue to encourage innovation and to recognize innovations that can actually help and immediately put them into play... if it's a product to market or if it's a system to implement that system," he added.
Cooperation and competition
Marcos likewise lauded the APEC and countries in the Indo-Pacific and Asia-Pacific regions for striking a good balance between cooperation and competition in terms of doing business.
"I think one of the great advantages that APEC and the countries in the Indo-Pacific, Asia-Pacific regions have been able to manage is that very difficult balance between cooperation and competition," he said. "What has driven the growth of the region is that we are able to compete with one another. But when we find opportunities where partnerships will give the better result, we are all perfectly willing to enter into those partnerships as well."
'The best politics'
Meanwhile, Marcos said the best way to earn people's trust is by making a conscious effort to walk the talk.
He raised this point when asked what the Philippine leader needed to do to attract more investments to the country.
"In the political context, the way to earn trust is to perform. I always say the best politics is performance because it's something that cannot be taken away from you and it is something that actually makes a difference in people's lives," Marcos said. "Perform and you will get back the trust of the people and that is what we all politicians (do) and I'm sure even people from the business side… that is what we strive for."
Marcos is currently in Bangkok to attend the 29th APEC Summit, his first as a Philippine leader.
The APEC is a regional economic forum established in 1989 to leverage the growing interdependence of the Asia Pacific. (PNA)