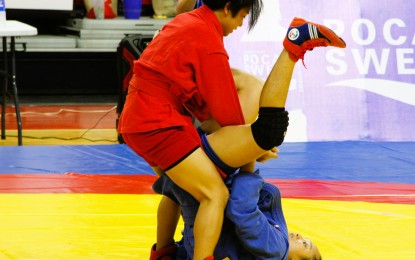 MANILA – Jocel Lyn Ninobla of the University Santo Tomas (UST) topped the individual recognized poomsae event in taekwondo in the final day of the 8th Women's Martial Arts Festival at the Rizal Memorial Coliseum in Manila on Thursday.
Sofia Ysabelle Sarmiento of La Salle took the silver medal while Mikee Rose Regala (La Salle) and Stella Nicole Yape (UST) settled for the bronze medals.
UST, represented by Aidane Krishia Laxa, Chelsea Xen Tacay and Jaeb Marie Viterbo, pocketed the team recognized poomsae gold medal while Ninobla, Janna Dominique Oliva and Juvenile Faye Crisostomo made up the National Team which won the freestyle poomsae.
In the Kyorugi event, the winners were Rajany Darlyn Santos of National University (finweight), Abegail Valdez of UST/National Team (flyweight), Raven Allyson Pablo of UST (bantamweight), Realis Tabiando of UST (featherweight), Jubilee Briones of National Team (lightweight), Aila Mathel Calip of National University (welterweight) and Gabrielle Salomon of San Beda University (middle/heavyweight).
The gold medalists in sambo, a Russian martial art, were Princess Cortez (under 54-kg sport), Aislinn Agnes Yap (under 80-kg sport), Mariane Mariano (under 54-kg combat) and Geli Bulaong (under 59-kg combat).
Over at the Ninoy Aquino Stadium, Renalyn Dacquel of SKP National Headquarters got the gold medal in the seniors full contact 52-kg category in kickboxing. Teammate Gretel De Paz also triumphed in the 56-kg category.
The gold medal winners in kurash, an ancient form of wrestling practiced in Uzbekistan, were Helen Alcopen (minus 52-kg), Charmea Quelino (minus 63-kg) and Eunice Lucero (minus 78-kg).
In jiu-jitsu, Shanta Loise Carlos won the under 54-kg category while Mariella Rafael won the over 54-kg and absolute categories.
Meanwhile, Muay Association of the Philippines (MAP) Team Bagsik won three gold medals. Mary Glyde Elizabeth Salazar defeated Janica Alawas of Benguet State University Combative Club in the 48-kg category; Allysa Kylie Mallari beat Noiline Janel Benzon in the 60-kg category; and April Joy La Madrid prevailed over Lily May Aguinaldo of BSU Combative Team in the 63.5-kg category.
Other winners were Ronelyn Tondag of Malabonian Ninjas (45-kg), Romarah Derrica Cerezo of Bootcamp Muaythai (54-kg), Baby Jane Buzon (45-kg) and Claire de Guzman of Philippine Air Force Veterans (57-kg), and Rudzma Abubakar of BSU Combative Club (51-kg).
In the Waikru Individual category, Islay Erika Bomogao of Team Bagsik won the gold medal while teammate Rhichein Yosorez secured the silver medal. Lady France Cusipag of Kafagway Lions, Sta. Rosa got the bronze medal.
In arnis, Maria Mae Ballester and Melody Legaspi bagged two gold medals each in the senior and junior divisions, respectively.
The 8th Women's Martial Arts Festival was organized by the Philippine Sports Commission under the office of Commissioner Olivia "Bong" Coo and supported by Pocari Sweat and Go21. (PNA)