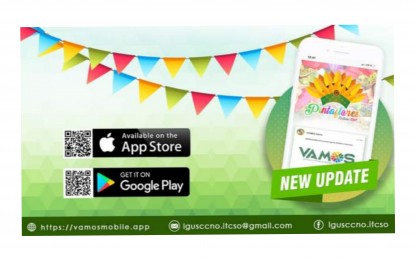 BACOLOD CITY – San Carlos City in Negros Occidental has turned its coronavirus disease 2019 (Covid-19) mobile application into an all-around e-services app that allows users to get news updates and track the status of requested documents and business-related transactions.
The local government unit (LGU)-developed Vamos Cares community mobile app was initially rolled out as a Covid-19 contact tracing tool called Vamos or Viral Assessment and Monitoring System at the height of the pandemic in 2020.
The name reflects the "Vamos, San Carlos!" tagline of the province's northernmost locality.
Almost a year later, the app has been upgraded to become the Vamos Cares or Community App for reliable e-Services.
"Being a performing city, the LGU of San Carlos must continue to develop, adjust, change and create new capabilities that aligns sustainability with better service. Vamos significantly aided in growing our efforts, particularly (when) the Covid-19 pandemic struck," Joseph Binghay, officer-in-charge of the Information Technology and Computer Services Office (ITCSO), said in a video message to mark the second year of Vamos Cares.
As of Thursday, the app's newest update, Vamos Newsfeed, has now been made available and provides daily news articles, updates, and announcements from around the city, and allows users to also like and post a comment on articles.
"We are encouraging other government offices, agencies and organizations to also announce and share news that's relevant and related to the city. We can provide a link where you can share your announcements and news," the ITCSO said.
A feature called Document Tracking (DocTrack), a tool which monitors the status and whereabouts of relevant documents, is now also online.
Through DocTrack, the user can search, view and access the information related to a certain document.
Government employees can track the status of their documents such as payrolls, letters, travel order and application for leave, while business owners and suppliers can also track the status of their business applications, renewal, purchase orders and payments.
Using the feature, national government offices, non-government organizations and private companies can monitor the status of their letter requests and other pertinent documents, while citizens may also track their documents pertaining to certain government transactions.
"With this new update, users can easily track their documents by entering their document number into the search bar or by simply scanning the supplied QR (quick response) code," the ITCSO said.
Aside from news and announcements and document tracking, Vamos Cares also has features on emergency response, law enforcement, medical information, utility bills and payments, business permits and taxes, e-tickets, events and reservations, and tourism and marketing.
The Vamos Cares app can be downloaded from the Apple Store and Google Play Store. (PNA)