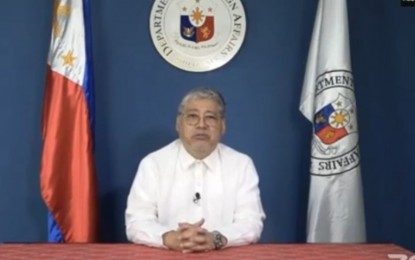 MANILA – The Philippines and Bangladesh should further explore business opportunities in the information technology (IT), agriculture, and health sectors, Foreign Affairs Secretary Enrique Manalo said Thursday.
In a seminar to commemorate the 50th anniversary of Philippine-Bangladesh bilateral ties, the top diplomat said relations on the economic front had grown steadily over the past few years.
Trade between Manila and Dhaka, he said, increased from approximately USD48 million to USD105 million in 2021, overcoming the impact of the coronavirus pandemic.
He also mentioned the recent USD3.9 million investment made by Bangladeshi BPO company TELSU Inc. and the continuous operation of Liwayway Corp. in Gazipur since 2019.
"I hope that this upward trend in our trade and investment relations will continue and that the full potential of our economic partnership will be realized in the next few years," Manalo said.
"There are still many business opportunities to explore in areas such as telecommunications, IT, agriculture, and the health sectors, just to name a few."
Bangladesh Foreign Minister Dr. Abdul Momen agreed with the need to "initiate new collaboration" in agriculture, digital economy, and education while strengthening cooperation in regional and international forums.
In the same event, Bangladesh Ambassador to Manila Borhan Uddin said now is the time to "review bilateral cooperation in the last 50 years, what we have achieved, and what could be achieved".
"(Although) we have made significant achievements from our bilateral cooperation, there is no reason to be complacent with that. We have to make robust and exponential progress," he said.
"Being developing countries, there might be a sense of competition in some sectors. If we complement each other without being competitive, I believe both countries can equally benefit from the common sources."
The two nations established formal diplomatic relations on Feb. 24, 1972, with the Philippines being one of the first countries to recognize Bangladesh's independence.
Through the years, various agreements in trade and investments, culture, merchant shipping, and youth and sports brought cooperation between the two to new heights.
For Manalo, Dhaka and Manila could further boost interactions on ways to address climate change and other emerging challenges, including food security, which is a priority area for the government.
"I note that the government of Bangladesh will soon hold its general elections in 2023. Rest assured that the Philippines will continue to work with Bangladesh's leaders in strengthening our cooperation in areas of mutual concern for the benefit of both our peoples," he said. (PNA)