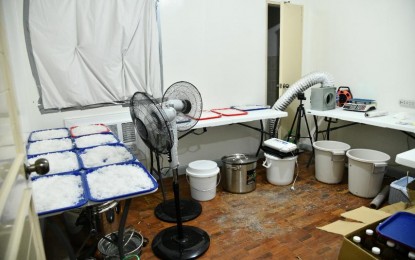 MANILA – Two drug suspects were arrested while authorities seized PHP149.6 million worth of shabu and chemicals used to make illegal drugs in a raid at an alleged shabu laboratory in Muntinlupa City early Friday.
In a report, Philippine Drug Enforcement Agency (PDEA) spokesperson Derrick Carreon said operatives raided the medium-scale shabu laboratory along Mabolo Street, Ayala Alabang Village at around 12:30 a.m. by virtue of a search warrant.
Arrested during the operation were suspects Aurelien Cythere, 41, and Mark Anthony Sarayot, 42.
PDEA agents confiscated 22 kilos of shabu, various controlled precursors and essential chemicals (CPECs), laboratory equipment, several IDs, three mobile phones, and financial documents.
"This group used a modified setup for manufacturing shabu. The shabu is mixed in liquid form, then washed with acetone. It's practically an odorless process, which is probably why they were confident in doing it here in a residential area", said PDEA officer-in-charge, Assistant Secretary Gregorio Pimentel, who personally led the operation.
The two suspects will be charged with violation of Section 8 (Manufacture of Dangerous Drugs), Article II of Republic Act (RA) 9165, and will be detained at PDEA Regional Office NCR Custodial Facility.
The seized pieces of evidence were brought to PDEA for documentation. (PNA)