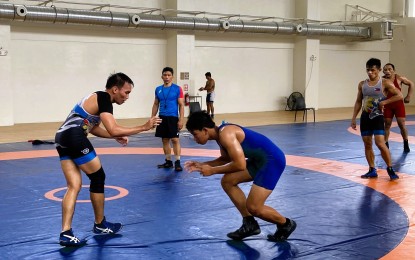 MANILA – The Wrestling Association of the Philippines, Inc. (WAP) will hold a National Open at the Sta. Rosa Sports Complex in Laguna on November 26-27.
According to assistant coach Jimmy Angana, national athletes and wrestlers from all over the country are joining the two-day competition, which will select the players going to Cambodia next month.
Angana said a team of 12 men and six women will participate in the pre-SEA (Southeast Asian) Games tournament set on December 12 to 15.
The 2023 SEA Games, which will offer a total of 608 medals in 49 sports, will be held from May 5 to 17.
Meanwhile, Vietnam SEA Games bronze medalist Grace Loberanes of the Philippine Navy is expected to perform well in the coming National Open.
The 31-year-old athlete from Talibon City in Bohol province won the gold medal in the 54kg. category of the just-concluded 8th Women's Martial Arts (WMA) Festival organized by the Philippine Sports Commission.
"I will do my best to win for myself and for the team," Loberanes said in an interview on Friday.
She has been a member of the national team for nine years.
The other members of the women's team are Jean Mae Lobo, Levie Espuerta, Aliah Rose Gavalez, Maybeline Masuda, Jiah Pingot, Maria Aisa Ratcliff, Cathlyn Vergara, Melissa Tumasis, and Jamila Cantos.
The men's team comprises Noel Norada, Ronil Tubog, Alvin Lobreguito, Jefferson Manatad, Johnny Morte, Tsudie Gulay, Lord Gabriel Del Rosario, Fierre Proudhon Afan, Joseph Angana, Allen Mitch Arcilla, Jason Baucas, Joefer Callado, Jeferson Calengayan, Michael Cater, and Neonards Cervantes.
Melchor Tumasis heads the national team coaching staff composed of Michael Baletin, Efewlyn Crosby, Michael Tabama, Francis Tapia, Lester del Rosario, Francis Villanueva, Renerio Rapisora, Cristine Vergara, and Angana.
Aside from the SEA Games, the national wrestlers are preparing for the 19th Asian Games in Hangzhou, China on September 23 to October 8 next year and the 6th Asian Indoor and Martial Arts Games (AIMAG) slated to be held in Bangkok and Chonburi province, Thailand on November 17-26, 2023.
The Asian Games features 40 sports while the AIMAG has 29.
The Philippines pocketed two gold medals coming from jiu-jitsu fighters Annie Ramirez and Meggie Ochoa, 14 silver medals, and 14 bronze medals in the 5th AIMAG held in Ashgabat, Turkmenistan in 2017.
The AIMAG is a merger of the Asian Indoor Games and the Asian Martial Arts Games. (PNA)