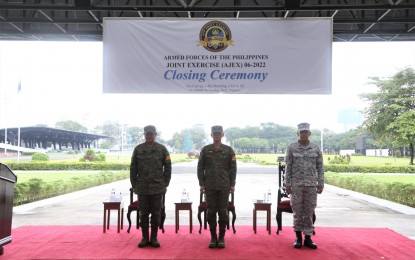 MANILA – Armed Forces of the Philippines (AFP) chief-of-staff Lt. Gen. Bartolome Vicente Bacarro said the military has achieved its targets of enhancing interoperability and readiness in joint operations at the conclusion of this year's iteration of the annual DAGIT-PA (Dagat-Langit-Lupa) exercises on Friday.
"The execution of the joint exercises have effectively up-skilled the men and women of the AFP and upgraded organizational capabilities. Clearly, 'DAGIT-PA' 06-2022 has enhanced the one AFP team concept through improved interoperability and readiness for deployment in the joint operational environment at any given time," he said in his speech.
Bacarro represented Department of National Defense Undersecretary Jose Faustino Jr. and presided over the DAGIT-PA closing ceremony held at AFP headquarters in Camp Aguinaldo, Quezon City.
For more than two weeks, the exercise directorate and participants have successfully completed the table top exercises held in AFP headquarters, staff exercise and cyber defense exercise in Western Command; and field training exercises namely air defense operations, counter-air operations, maritime security operations, amphibious operations, combined arms and littoral live-fire exercise and unconventional warfare and counter-terrorism operations in Palawan.
Also present in the closing ceremonies were AFP Education Training and Doctrine Command chief and this year's exercise director, Brig. Gen. Marvin Licudine, AFP deputy chief-of-staff for education, training and doctrine, Rear Adm. Donn Anthony Miraflor, and Philippine Army chief Lt. Gen. Romeo Brawner Jr., joint staff and representatives from the other major services.
"From the planning and coordination to the execution, the AJEX (AFP Joint Exercises) 'DAGIT-PA' 2022 was a success and has attained its objectives. Our AFP has enhanced the conduct of crisis planning and joint military operations in territorial defense of the different mission areas," Licudine said.
The DAGIT-PA focuses on enhancing the readiness of the PA, Philippine Navy, and Philippine Air Force in joint and combined operations that mirrors a real-world scenario.
He also thanked stakeholders from the local government of Palawan for their support in the conduct of the exercise.
The annual unilateral exercise was also geared at testing the AFP's territorial defense capabilities as it continues to promote and uphold peace and stability across the region and the globe.
During the field training and staff exercises, key units were able to identify needed military hardware and capabilities that will form part of the military's modernization program.
DAGIT-PA continues to serve as a necessary tool to enhance the joint forces' personnel capacity and unit capabilities which will enable AFP members to be readily deployable in all kinds of contingencies.
This year's DAGIT-PA is the sixth iteration of the joint exercise unilaterally conducted by the AFP. (PNA)