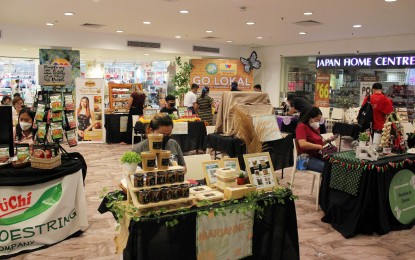 MANILA – The digital inclusion of micro, small, and medium enterprises (MSMEs) will help them thrive and expand market reach to sustain "economic regeneration," President Ferdinand R. Marcos Jr. said Friday, as he acknowledged the sector's role in stimulating the economy.
During the Retreat Session of the 29th Asia-Pacific Economic Cooperation (APEC) Economic Leaders' Meeting in Bangkok, Thailand, Marcos said MSMEs must venture into e-commerce to ensure its "increased resilience and productivity."
"MSMEs need opportunities and assistance to recover, grow and progress in the post-pandemic and digital age," Marcos told economic leaders.
Marcos said MSMEs, serving as "catalysts for economic regeneration, job creation and poverty reduction," can help the Asia-Pacific region sustain economic growth.
Hence, APEC must support MSME's digitalization efforts, as economies recover from the effects of the coronavirus disease 2019 (Covid-19) pandemic, Marcos added.
Marcos made the call, as he lamented that the MSME sector continues to face "systemic problems and structural challenges heightened by the pandemic."
"This is in addition to facing complex challenges that going digital presents, such as data privacy and cybersecurity issues, lack of digital infrastructure, digital fraud, online consumer protection concerns, digital inclusion and access to finance and the persisting digital divide, among others," he said.
Marcos said small businesses must use the "right" tools and policies, in order for them to become "more adept and agile" in using digital solutions and approaches.
APEC economies, Marcos noted, also agreed that the collaboration and cooperation between policy-makers and the private sector are vital in "establishing interventions and regulatory frameworks" that will ensure MSME's economic resilience in the "long term."
The Marcos administration is putting a premium on the revitalization of MSMEs, being the "backbone" of the Philippine economy.
As of 2021, Around 99.58 percent or 1,076,279 of the 1,090,810 total business establishments operating in the Philippines are MSMEs, according to the statistics released by the Philippine Statistics Authority (PSA).
MSMEs also generated a total of 5,461,731jobs or 64.67 percent of the country's total workforce, the PSA data showed. (PNA)