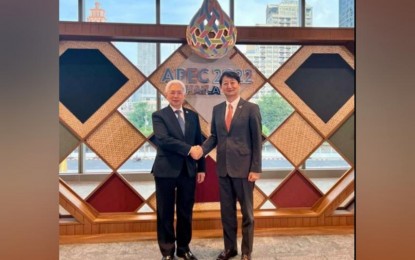 MANILA – Manila and Seoul target to conclude discussions of their bilateral free trade agreement (FTA) in order to sign the trade pact by first quarter of next year, the Department of Trade and Industry (DTI) said Friday.
At the sidelines of the Asia Pacific Economic Cooperation (APEC) Summit in Bangkok, Thailand on Thursday (Nov. 17), DTI Secretary Alfredo Pascual and South Korea's Trade, Industry, and Energy (MOTIE) Minister Ahn Duk-Geun had a bilateral meeting, in which the two trade executives reaffirmed their commitments to conclude the Philippines-South Korea FTA.
During the meeting, Pascual and Ahn eyed to sign the bilateral FTA in the forthcoming visit of President Ferdinand R. Marcos Jr. to South Korea by the first quarter of 2023.
Aside from reaffirming the FTA conclusion, Pascual and Ahn also discussed ways to boost economic relations between the Philippines and South Korea.
"The two ministers had a productive discussion on trade and investment issues, which is aimed to strengthen the bilateral relationship of the Philippines and South Korea. Likewise, both agreed to facilitate cooperation centered on research and development, renewable energy, and green technology," the DTI said in a statement.
Prior to the meeting of the trade chiefs of the two countries, DTI Undersecretary Ceferino Rodolfo and MOTIE Deputy Trade Minister Jeong Dae-jin met last Oct. 18 for the second Joint Commission for Trade and Economic Cooperation (JCTEC).
Data from the Philippine Statistics Authority shows that from January to September this year, Philippine exports to South Korea grew by 16.9 percent to USD2.3 billion from USD1.96 billion in the same period in 2021.
Philippine imports from South Korea stood at USD10 billion in the first nine months of 2022, a jump of 59 percent from last year's imports of USD6.3 billion.
For this year, South Korea is the country's ninth largest export destination and the fourth biggest source of imported goods. (PNA)