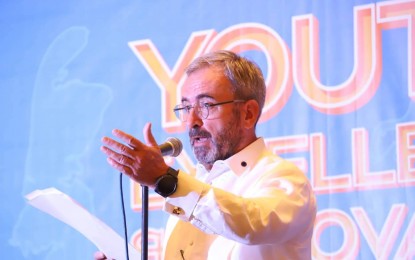 MANILA – The European Union (EU) encourages Filipino nationals who want to pursue higher education abroad to turn to Europe and avail of scholarships offered under the Erasmus+ program.
At the opening of the two-day hybrid European Higher Education Fair (EHEF) 2022 at Shangri-La Plaza Manila in Mandaluyong City on Friday, EU Ambassador to the Philippines Luc Véron said studying in Europe would provide the Filipino youth a different perspective useful for both personal and professional development.
EHEF is a venue for interested students to interact with representatives from over 90 top universities and educational institutions in Europe.
"As the European Union celebrates the 2022 International Year of the Youth, we are focused on enabling the youth to be ready for innovation and to help build a better future -- greener, more inclusive, and digital," Véron said in his speech.
EU Delegation deputy head Ana Isabel Sanchez Ruiz said EHEF 2022 includes information sessions on Erasmus+ scholarship and how Filipinos can apply.
Erasmus+ offers the chance to combine studying abroad with a traineeship. Opportunities are available for students at short cycle Bachelor, Master or Doctoral levels.
"We have a very well-established scholarship program where students can have full coverage of their expenses to study in up to three different universities within EU member states and outside," she told the Philippine News Agency.
On top of this, Ruiz said some of the EU member states have their own scholarship offerings for foreigners.
"Sometimes there are also university programs, so all these information would be available at EHEF," she said.
Participating EU member-states are Belgium, Czechia, Denmark, Germany, Ireland, Spain, France, Italy, Hungary, the Netherlands, Poland, Austria, Finland and Sweden.
EHEF's virtual platform is accessible at www.ehefphilippines.com. (PNA)