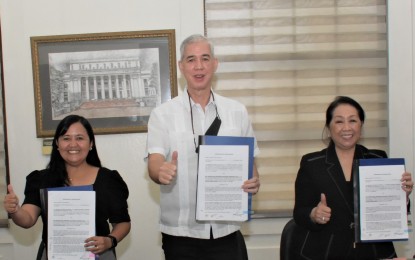 BACOLOD CITY – The Negros Occidental provincial government has renewed its partnership with the AFS Intercultural Programs Philippines Foundation (AFS IPP) which will pave the way for more foreign partners to study the English language while being immersed in Filipino culture.
Through the Negros Occidental Language and Information Technology Center (NOLITC), the province currently hosts eight high school and college students enrolled in various partner-schools here and in the neighboring Talisay City.
"The partnership with AFS Philippines is part of our common advocacy for global citizenship education. The presence of foreign students and volunteers in our campus allows our students and teachers to immerse in other cultures and practices," NOLITC vocational school administrator Ma. Cristina Orbecido told the Philippine News Agency on Friday.
Governor Eugenio Jose Lacson and AFS IPP president Rahiema Bagis-Guerra signed the memorandum of a renewed agreement Thursday at the provincial capitol
The eight students from Germany, Finland, Japan, Italy and Belgium are in Negros Occidental and will stay there until the middle of May next year.
Aside from the NOLITC, other partner-schools include Negros Occidental High School, Bacolod Tay Tung High School, La Consolacion College-Bacolod, Carlos Hilado Memorial State University, and Technological University of the Philippines-Visayas.
Under the agreement, NOLITC conducts the English Intensive Program for foreign students and volunteers that focuses on learning English as a second language while immersed in Negrosanon/Filipino culture for four weeks.
As partner-school, NOLITC could have its qualified students apply for AFS Intercultural Exchange Programs for students to participate in study abroad opportunities.
Through the partnership, teachers and students of other host schools also have the opportunity to undergo an intercultural experience in their own classrooms and campuses, according to AFS IPP. (PNA)