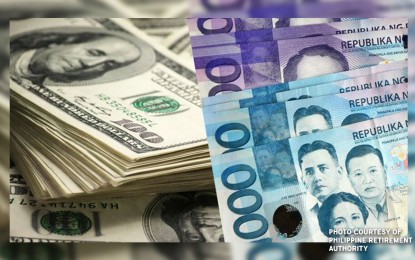 MANILA – Risk on sentiments reigned in the local bourse on Friday amidst investors' wait-and-see stance on policy rate path indications from Federal Reserve officials and the peso ended the week sideways.
The Philippine Stock Exchange index (PSEi) rose by 0.53 percent, or 33.64 points, to 6,437.38 points.
All Shares followed with a jump of 0.24 percent, or 8.03 points, to 3,396.63 points.
Financials led the sectoral counters after it increased by 0.95 percent.
It was trailed by the Property, 0.78 percent; Services, 0.70 percent; Industrial, 0.67 percent; Mining and Oil by 0.08 percent; and Holding Firms, 0.0007 percent.
Volume reached 570.39 million shares amounting to PHP5.33 billion.
Gainers surpassed losers at 106 to 67 while 40 shares were unchanged.
"Philippine shares continued to outperform other regions as wall St. dropped for the second straight day, with investors digesting several speaking engagements from Fed (Federal Reserve) officials," said Luis Limlingan, Regina Capital Development Corporation (RCDC) head of sales.
Citing reports, he said St. Louis Fed President James Bullard has indicated that the increase in the Fed's key rates cannot be considered to be in a sufficiently restrictive zone and suggested that for the key rates to be considered in this zone is for these to be between 5-7 percent, higher than market pricing.
Earlier this month, the Fed Funds Rate have been increased by another 75 basis points to between 3.75-4 percent as US monetary authorities address the four-decade high inflation in the world's largest economy.
On the local front, the Bangko Sentral ng Pilipinas (BSP) on Thursday increased its key rates by 75 basis points and Limlingan said this decision "looked as an indicator to temper inflation."
Rate of price increases in the country posted its highest since December 2008 last October when it accelerated to 7.7 percent.
The BSP revised upwards its average inflation forecast for this year to 5.8 percent from 5.4 percent and the 2023 forecast from 4 percent to 4.3 percent due in part to the impact of the continued rise of commodity prices in the international market.
It, however, cut its 2024 average inflation forecast from 3.2 percent to 3.1 percent.
Meanwhile, oil futures in the global market slipped partly because "demand (is) squeezed by mounting Covid-19 cases in China and fears of more aggressive hikes in US interest rates."
Brent crude oil futures dropped by 3 percent to USD90.05 per barrel and the West Texas Intermediate (WTI) by 4.1 percent to USD82.05 per barrel.
The rise of the equities index benefited the peso after it closed the week at 57.26 from Thursday's 57.36.
It opened the day at 57.44 and traded between 57.45 and 57.23. Average level for the day stood at 57.347.
Volume reached USD650.18 million, lower than the previous day's USD661.88 million.
Rizal Commercial Banking Corporation (RCBC) chief economist Michael Ricafort traced the peso's performance partly to the central bank's report about the improvement in the country's balance of payment (BOP) position, which registered a surplus of USD711 million last October, the highest in the last seven months.
The latest BOP position, which is a record of a country's total transactions with the rest of the world, is lower than year-ago's USD1.1 billion.
It reduced the year-to-date BOP deficit to USD7.1 billion from USD7.8 billion deficit as of end-September this year.
Ricafort said signals from central bank officials about the possible revision of foreign exchange rules, if needed, to address the any speculation on the peso exchange rate also lifted the peso.
He said the local unit's immediate support level is between 57.00-57.25.
He forecasts the peso to trade between 57.10-57.50 to a US dollar next week while the projection for Monday is between 57.15 to 57.35. (PNA)