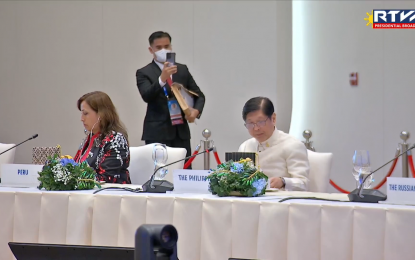 MANILA – President Ferdinand R. Marcos Jr. on Friday asked his fellow Asia-Pacific leaders to create a "free, fair, and inclusive" trade and investment environment in the region.
Marcos made the call during his intervention in a working lunch at the 29th Asia-Pacific Economic Cooperation (APEC) Economic Leaders' Meeting in Bangkok, Thailand, as he acknowledged the 21-member bloc's vital role in fostering a "stable and predictable environment for progress and prosperity, anchored on peace and collaboration."
Marcos said APEC member economies must seek a "responsive and relevant" multilateral trading system by ensuring their compliance with the existing agreements, including the World Trade Organization (WTO) deals.
"A free, fair, open, nondiscriminatory, transparent, inclusive, and predictable trade and investment environment will help economies practice responsible policy-making that is crucial in ensuring that everyone can fully participate and benefit from trade," Marcos told his fellow APEC economic leaders.
"Fostering open markets, predictable and fair rules, and a functioning system to adjudicate these views are the hallmarks of responsive and relevant multilateral trading system to build a robust global economy towards greener, more inclusive, and resilient societies," he added.
Marcos acknowledged that global trade has been a "central feature" in addressing the coronavirus disease 2019 pandemic and supporting economic recovery.
The spirit of cooperation, Marcos said, will yield a remarkable economic growth.
"As a global focus shifts to reigniting growth and charting the path for a strong economic recovery, governments are responsible for providing their people with the necessary support for recovery, growth and for development," he said.
Marcos likewise stressed the need to address regional trade and investment issues and identify opportunities of mutual interest with APEC partners and stakeholders during an informal meeting, the Office of the President (OP) said in a Facebook post.
Marcos encouraged the use of safety measures that will help stabilize the flow of essential goods and services in times of crisis.
"The President encouraged investments in the high-quality ICT (information and communications technology) infrastructure in less developed member economies as he advocated for regional economic integration to ensure more resilient and sustainable supply chains and green investments," the OP said.
"He then urged support for shipping and logistics services, which he referred to as the 'backbone of global trade and investment,'" the OP added. (PNA)