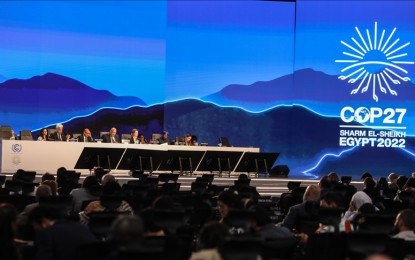 ISTANBUL – The UN Climate Change Conference or COP27 on Sunday agreed to establish a "loss and damage" fund to help vulnerable countries hit hard by climate change.
The 27th conference was held in the Egyptian resort of Sharm El Sheikh.
Egyptian Foreign Minister and COP27 President Sameh Shoukry said the decision to set up a "loss and damage" fund and a green climate fund was approved without any objections.
"The work that we've managed to do here in the past two weeks, and the results we have together achieved, are a testament to our collective will, as a community of nations, to voice a clear message that rings loudly today, here in this room and around the world: that multilateral diplomacy still works," he said.
The Egyptian minister said despite the difficulties and challenges and the divergence of views, level of ambition, or apprehension, the conference remained committed to the fight against climate change.
"We rose to the occasion, upheld our responsibilities, and undertook the important decisive political decisions that millions around the world expect from us," he added.
The "loss and damage" fund is a big win for the poor countries, which have long called for being compensated for climate-related disasters. Rich countries, however, have long opposed the idea.
Details on how the fund would operate, however, remain murky. The text leaves a lot of questions unanswered about when it will be finalized and become operational, and how exactly it would be funded.
Sunday's agreement came after marathon talks between delegates from about 200 countries that exceeded the final date of the summit.
COP27 was originally scheduled to close on Friday. (Anadolu)