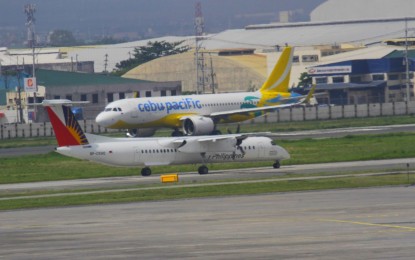 MANILA – Flag carrier Philippine Airlines (PAL) announced Monday it will transfer some of its international flight operations from the Ninoy Aquino International Airport (NAIA) Terminal 2 to Terminal 1.
Its flights to and from the United States, Guam, and Doha will operate at Terminal 1 beginning Dec. 1 as the airline prepares for passenger influx this holiday season.
PAL spokesperson Cielo Villaluna, however, clarified that the terminal transfer of the flights will continue beyond December.
"PAL and MIAA (Manila International Airport Authority) are working together to ensure the operational preparedness of the terminals," she told the Philippine News Agency.
A former MIAA executive earlier said that NAIA Terminal 2 was originally designed as a domestic airport, and was not designed to accommodate a section for the Bureau of Immigration and a duty-free shop.
PAL is the sole carrier that has been using Terminal 2.
Affected flight destinations in the transfer are Dammam, Dubai, Doha, Riyadh, Toronto, Vancouver, Los Angeles, San Francisco, New York , Honolulu and Guam.
The rest of PAL's international routes and all its domestic flights will continue operating at Terminal 2.
Cebu Pacific to add frequencies
Meanwhile, due to the increasing travel demand, low-cost carrier Cebu Pacific (CEB) has announced the increase in the weekly frequencies of its domestic and international flights.
Starting Dec. 1, an increase in the weekly flights between Cebu and the following provinces will be implemented: Iloilo from 21 to 25; Dumaguete from 14 to 18; Legazpi and Surigao from seven to 10; Tacloban from 25 to 28; and Pagadian from 10 to 11.
Here are weekly frequencies of flights and the following international destinations: Brunei from twice to four times, starting Nov. 27 until Jan. 15, 2023; Jakarta from three to five (from Dec. 1 to Dec. 13) and to seven weekly flights from Dec. 14 to Jan. 31; Seoul from seven to 14 times starting Dec. 1; Taipei from thrice to seven times beginning Dec. 10; and Hong Kong from 28 to 32 times starting Dec. 11 until Jan. 30.
CEB chief commercial officer Xander Lao, in a statement, said the airline is excited to mount these additional flights as the holiday season is approaching. (PNA)