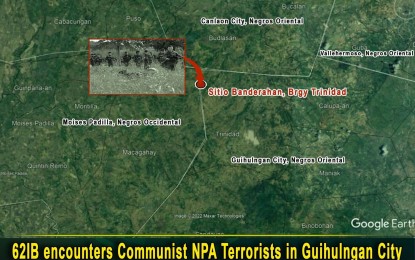 DUMAGUETE CITY – A member of the Communist Party of the Philippines-New People's Army (CPP-NPA) was killed in a clash early Monday with soldiers of the Philippine Army's 62nd Infantry Battalion (62IB) in a remote village in Guihulngan City, Negros Oriental.
This is the 3rd NPA member to be killed in an encounter with government troops in Guihulngan City in less than a month.
Lt. Col. William Pesase, 62nd IB commanding officer, told the Philippine News Agency in an interview that on Sunday evening, a civilian tipped them off on the presence of armed men in Barangay Trinidad.
"Acting on the information, the Army troops proceeded to Barangay Trinidad, and hours later, at around 6 a.m., encountered about five NPA rebels in one of the sitios (sub-village)," Pesase said in mixed English and Filipino.
A brief exchange of gunfire ensued before the rebels fled, leaving behind their dead companion, he said.
The soldiers also recovered an M16 rifle from the encounter site.
Pesase said the armed group in the latest encounter belongs to the same band of about 20 NPA rebels of the Central Negros 1, Komiteng Rehiyon-Negros, Cebu, Bohol, and Siquijor (KR-NCBS) who figured in a series of clashes late last month in the villages of Planas, Buenavista, and Magsaysay in Guihulngan City.
The rebels have "splintered into smaller groups" afterward so they could not easily be tracked down, "but we are persistently going after them as they are on the run and cross boundaries to and from Moises Padilla in Negros Occidental," he added.
Police and the local Disaster Risk Reduction and Management Office (DRRMO) of Guihulngan City are now on their way to recover the body of the slain rebel in the remote sub-village.
"I am once again calling on the remaining members of the CPP-NPA to lay down their arms and give up their armed struggle, otherwise they could end up with the same fate as the others," Pesase said.
Soldiers from the 62IB recovered the bodies of two NPA members in Sitio Ilihan in Barangay Buenavista last Oct. 30 following the series of encounters.
"The people are already fed up with them and are now cooperating with us in providing information about the NPA rebels," Pesase said. (PNA)