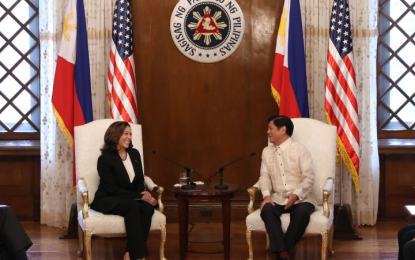 MANILA – President Ferdinand R. Marcos Jr. on Monday personally thanked United States (US) Vice President Kamala Harris for America's commitment to defend the Philippines, its treaty ally, against any armed attack in the South China Sea (SCS).
He made this remark as he welcomed Harris at Malacañan Palace for a scheduled bilateral meeting ahead of her visit to Palawan to uphold the rules-based international maritime order in the highly-contested sea.
"I thank you for the very strong commitment that you have just made for the US to be defensive of the Philippines," Marcos told Harris in his welcome remarks before their meeting.
Marcos welcomed the "well-established" ties between the Philippines and the US which continued to be strengthened through the years.
"Your visit is a very strong symbol that these relationships remain strong and that these relationships remain important as indeed they do. I have said many times, I do not see a future for the Philippines that does not include the United States," he said.
"I cannot think of an area where we have not cooperated, collaborated and have had good results for both our countries," he added.
For her part, Harris reiterated that the US will "always" stand with the Philippines in defense of international rules and norms as it relates to the South China Sea.
"An armed attack on the Philippines, armed forces, public vessels or aircraft in the South China Sea would invoke US Mutual Defense commitments. And that is an unwavering commitment that we have to the Philippines," she said.
The 1951 Mutual Defense Treaty, the longest-running defense pact, aims to step up the defense and security cooperation between the Philippine and US troops.
China claims some territories in the waters off Palawan and much of the South China Sea, citing domestic historical maps. However, a 2016 international arbitration ruling said the Chinese claims had no legal basis.
Harris said Philippine-US relations are based on mutual commitments to international rules and norms and upholding them will allow prosperity and security for their respective nations and the region.
"Again, I will reiterate that the alliance between the United States and the Philippines is a strong one and enduring one and only under your leadership continues to be strengthened and we look forward to working with you on many of these issues," she added.
Meanwhile, Harris said she also looked forward to her bilateral meeting with Marcos to discuss areas of mutual concern such as climate crisis, investments in renewable energy and clean power among others.
She likewise thanked Marcos for the warm welcome given to her and the US delegation.
Harris arrived in the Philippines on Sunday, the first visit in five years by a high-ranking US official since former President Donald Trump visited the country in 2017.
She was accompanied by her husband, Second Gentleman Doug Emhoff. (PNA)