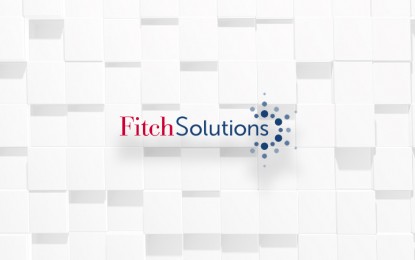 MANILA – Fitch Solutions Country Risk & Industry Research forecasts additional 75 basis points increase in the Bangko Sentral ng Pilipinas' (BSP) key policy rates until the first half of 2023 on expectations of sustained elevated inflation rate.

In a report dated Nov. 18, 2022, the unit of Fitch Group projects a 50 basis points increase in the central bank's key rates next month and a 25 basis points hike in the first half next year.

"The central bank will remain resolute in reigning in high domestic inflation, which we expect to average 5.8 percent in 2022 before moderating slightly to 4.8 percent in 2023," it said.

Last week, the central bank's key rates were increased by another 75 basis points, which brought the overnight reverse repurchase rate to 5 percent.
This, after monetary authorities noted that risks to inflation remain on the upside, with both the 2022 and 2023 average inflation projections adjusted higher.

The BSP's average inflation forecast for this year has been hiked from 5.4 percent to 5.8 percent and next year's figure was changed from 4 percent to 4.3 percent.

Last October, the rate of price increases rose to 7.7 percent, over 14-year high, from month-ago's 6.9 percent.

This brought the average inflation in the first 10 months this year to 5.4 percent, higher than the government's 2-4 percent target band.

Amid projections of sustained high inflation rate, Fitch Solutions considers stabilization in global monetary conditions and headwinds in economic growth as factors for a slower pace of monetary policy tightening in the coming months.

"Our forecasts are in line with consensus in 2022, but a bit higher than the 5.50 percent in 2023," it said.

The report also cited monetary authorities' statements that the latest rate hike is aimed at cushioning the impact of external headlines on the domestic economy and exchange rate fluctuations.

It said the peso has stabilized against the US dollar since October after hitting its record-low of 59.00 several times that month.
It added the local currency is now less overvalued on a real effective exchange rate basis.

Last Friday, the peso ended the trading at 57.26 to a US dollar and is still trading at 57-level at the start of this week.

"If we are right, there will be less of a need for the BSP to lean towards aggressive rate hikes to defend the peso going forward," it said.

The report said while the domestic economy continues to recover from the pandemic, with the third quarter growth accelerating further to 7.6 percent from the upwardly revised 7.5 percent in the previous quarter, risks to economic growth are rising.

"Further ahead, we think that the lagged impact of persistent inflation, weaker external demand, and high interest rates will lead to a slowdown in growth, which we expect to slow from 7.4 percent in 2022 to 5.9 percent in 2023," it added. (PNA)