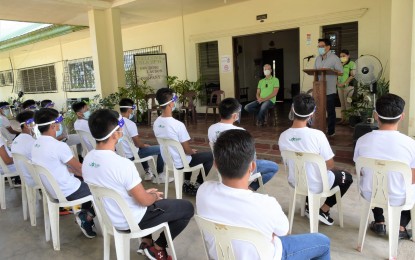 BACOLOD CITY – Seven Bahay Pag-asa facilities handling children at risk (CAR) and children in conflict with the law (CICL) in Negros Occidental received PHP3.079 million worth of assistance from the national government.
The turnover of support, led by officials of the Juvenile Justice and Welfare Council (JJWC) and the Department of Social Welfare Development (DSWD), was held during the kickoff rites of the 11th Juvenile Justice and Welfare Consciousness Week at Nature's Village Resort in Talisay City on Monday.
"The (juvenile justice) issue is one of the least known issues when it comes to children's rights promotion. This year, we focus on the impact of ensuring the full implementation of the Juvenile Justice and Welfare Act in the protection and promotion of children's rights and welfare," JJWC executive director Tricia Clare Oco said.
Bahay Pag-asa is a 24-hour child-caring institution that offers short-term residential care for CICL above 12 but below 15 and with pending cases in courts as mandated by the Juvenile Justice and Welfare Act.
All but two of 96 Bahay Pag-asa centers nationwide are being operated by local government units while the two others are by non-governmental organizations.
The PHP3.079-million aid to the Bahay Pag-asa centers in Negros Occidental is part of the PHP5.278 million in total assistance provided by the JJWC for the facilities in Western Visayas.
The assistance comprises training of staff, life skills and livelihood training package and subsidiesfor residents.
During the symbolic turnover, those who received the assistance kits were the University of St. La Salle Bahay Pag-asa Youth Center in Bacolod City and the Bahay Pasilungan Talisay City.
"The DSWD is committed and fully supportive of all the programs and services being implemented by the JJWC as our attached agency. DSWD also has its own programs for children," Assistant Secretary Elaine Fallarcuna said.
In Western Visayas, the top offenses of CICL are rape, theft and robbery, and drug-related cases.
DSWD-Western Visayas Assistant Regional Director Arwin Razo said juvenile delinquency is a problem that requires a solution with the participation of all stakeholders.
"There is a need to intensify community-based interventions, which I think is more on the preventive side. We have to empower, we have to protect, and we have to take a look at the immediate environment of the child," he added.
This year's observance of 11th Juvenile Justice and Welfare Consciousness Week from Nov. 20 to 26 carries the theme "Pagbabago ay Panigurado Kung Tututukan Natin ang Juvenile Justice Law" (Change is Certain When We Focus on the Juvenile Justice Law).
It is also part of the National Children's Month celebration. (PNA)