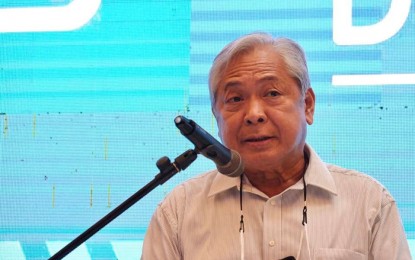 MANILA – The Department of Transportation (DOTr) is looking to build more partnerships with other countries to help boost the maritime industry and security of the Philippines.
During the Pilipinas Conference 2022 at the Ayala Museum in Makati City on Monday, DOTr Secretary Jaime Bautista noted the recent agreements of the Philippine Coast Guard (PCG) with other countries to address anti-piracy, anti-illegal drugs, and anti-terrorism campaigns and the recent PCG-United States Coast Guard maritime exercises.
He said the DOTr is looking to enhance the PCG's capabilities through acquiring more assets.
"[President Ferdinand R. Marcos] concurred with our thrust to modernize and upgrade the PCG's assets and capabilities," he said.
To date, he said the country is also actively participating in the Regional Cooperation Agreement on Combatting Piracy and Armed Robbery and establishment of the multi-sectoral National Coast Watch System (NCWS) and Joint Peace and Security Coordinating Center (JPSCC) and the Maritime Command Centers with ASEAN member nations Indonesia and Malaysia.
"The DOTr realizes the strengths and weaknesses of our maritime agencies but we are optimistic at being able to enhance our capabilities at ensuring the safety of our vessels, passengers and crew," he said.
The country is represented in the NCWS and JPSCC by the Armed Forces of the Philippines (AFP) and Philippine National Police (PNP).
"We look at opportunities to forge collaborations with maritime-related agencies of other countries to benchmark our efforts at raising our maritime industry to global standards," he said.
With much of the country relying on sea transport, he said the DOTr is looking to strengthen its maritime sector agencies such as the Philippine Ports Authority (PPA) and Maritime Industry Authority (MARINA).
"With massive coastal lowlands and marine resources, the country relies largely on sea transport for mobility of people and goods," he said.
He noted that the Philippines aims to be a ""major maritime nation that values the safety and protection of marine life and marine environment."
Earlier, the MARINA signed a memorandum of understanding with the Nautical Institute to help boost the country's maritime education and training through improvements on curricula and conducting academic workshops. (PNA)