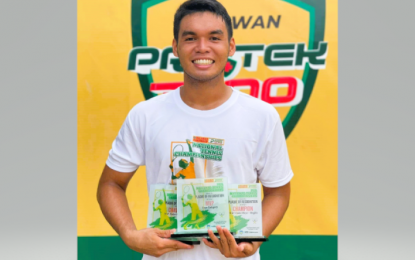 MANILA – Unseeded Miguel Iglupas captured the boys' 18-under and 16-under titles on Monday in the Philippine Columbian Association (PCA) Juniors National Tennis Championships at the PCA outdoor shell courts in Plaza Dilao, Paco, Manila.
Iglupas claimed victory in the boys' 18-under category after pulling off a 6-1, 6-4 upset win over top seed and 2022 PCA Open Juniors champion Mateo Rivas. He ousted No. 2 seed Ivan Charles Manila in the second round, 5-4 (2), 2-4, 16-13, and No. 3 seed Cyril Bryan Paster in the semifinal, 6-1, 6-1.
In the 16-under category, Iglupas eliminated No. 4 seed Paster in the quarterfinal, 4-1, 4-0, and No. 1 seed Frank Nhiel Dilao in the semifinal, 6-3, 6-0. In the final, he was declared winner when, after leading 1-0 in the first set, his opponent, No. 6 seed Kenzo Marcus Brodeth, retired due to back injury.
"I am very happy because I beat the No. 1 in the boys' 18-under final," said the 5-foot-8 player from Iligan City, Lanao del Norte after the awarding ceremony.
For his twin victories, Iglupas also received the Most Valuable Player award of the tournament which is part of the PPS-PEPP junior circuit organized by Palawan Pawnshop president and CEO Bobby Castro.
"This is my first tournament this year and I won my first 18-under title. I hope to continue playing well in my future tournaments," said the younger brother of Khim, a former member of the national women's tennis team.
All five Iglupas children are tennis players, learning the sport from coach Sonny, an uncle from their father's side.
Iglupas admires 10-time PCA Open men's singles champion and fellow Iligan City-born Johnny Arcilla, describing him as "a brilliant player who hits the ball hard and steady."
Iglupas is currently training at the Philippine Tennis Academy (PTA), which is headed by long-time tennis patron Romeo Chan. Former national player Jun Toledo and Kenneth Salvo are the coaches of the academy based in Alabang, Muntinlupa City.
"Miguel was part of the satellite training camp in PTA Cagayan de Oro in 2015. He joined the PTA Elite Manila last October 15," Salvo said.
The PTA is a good training ground for young and talented players like Iglupas, who dreams of becoming "a top player in the junior world rankings".
"I would like to thank the PTA for inviting me. I want to be best so I will work hard to achieve that goal," said the Grade 11 student at the Seibo College in Malabon City.
Iglupas' next tournament is the Brookside Men's Open scheduled from Nov. 27 to Dec. 3 in Cainta, Rizal.
"I prefer to compete in the men's Open. There are many strong players in the tournament and I want to gauge my skills against them," he said. (PNA)