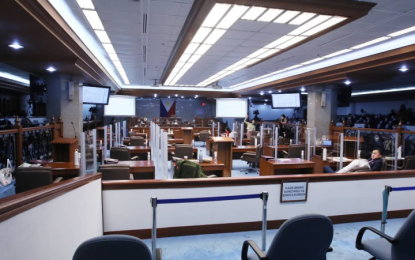 MANILA – The Senate on Monday approved the creation of a committee to look into the use of the confidential and intelligence fund (CIF) of government agencies.
Senate President Juan Miguel Zubiri sponsored Senate Resolution No. 302, or an act creating a select oversight committee to keep a close eye on the utilization of CIF.
In a statement, Zubiri said it is the duty of the Senate to protect the PHP9.28-billion CIF and see to it that it is properly utilized, subject to the rules of the Commission on Audit.
He added that he is open to hearings or investigations if needed.
An oversight committee was first introduced in the Senate during the 10th Congress, Zubiri recalled.
Upon the motion of Senate Majority Leader Joel Villanueva, all senators were made co-sponsor of the measure.
Zubiri will be the chairperson while the members are Senators Sonny Angara, Ronald Dela Rosa, Villanueva and Senate Minority Leader Koko Pimentel.
Pimentel expressed his support but not after his colleagues agreed that the CIF of some civilian agencies must be trimmed when amendments are introduced to the proposed P5.268-trillion national budget for 2023.
"This is our second line of defense in the name of the people and for the people, in the spirit of transparency" Pimentel said in his manifestation. (PNA)