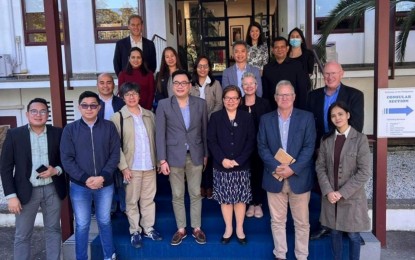 MANILA – The eight-day emergency broadcast training by the Australian Broadcasting Corporation (ABC) in Canberra for members of the Philippine government media is a realization of the two countries' action plan on disaster management.
Philippine Ambassador to Australia Hellen De La Vega said the Foreign Affairs and Trade departments of both countries adopted a plan of action in August 2021 where priority areas of cooperation on exchange of best practices on disaster risk reduction and management and emergency communications were identified.
With climate change and extreme weather disturbance affecting several countries, De La Vega said it is important that the two countries adopt a framework to enhance communication to the public, especially in remote and rural areas.
"I'm very pleased that the action plans were executed and realized within the time frame," De La Vega said in an interview over the weekend.
"It was actually a commitment from the two sides, Philippines and Australia, to cooperate on best practices on disaster risk resilience and management and on emergency communication kaya nasabi ko na (that is why I said) this is already a realization, an operationalization of how Australia can support the Philippines in emergency communication through your visit here on emergency broadcasting," she added.
De La Vega said the Philippines and Australia are both maritime nations so they face common challenges.
Several areas in Australia have been flooded in recent days after heavy rainfall in vast areas in the eastern part. No Filipinos have been reported affected so far, according to the embassy.
Flood warnings have been issued across New South Wales (NSW) and Victoria due to continuous rains.
The NSW State Emergency Service performed eight flood rescues during the weekend and received 255 calls for help.
The flooding has taken a toll on the country's agricultural sector, affecting wheat and barley crops and the sheep and dairy industries, according to international reports.
"As a maritime archipelagic nation, we can definitely relate to Australian experience," De La Vega said.
She added that Australian authorities are monitoring disaster events in the Philippines.
Media members and management staff from the Philippine Information Agency, Philippine Broadcasting Service, Radio Television Malacañang, People's Television Network, Intercontinental Broadcasting Corporation, Philippine News Agency and National Disaster Risk Reduction and Management Council attended the study visit from Nov. 12 to 19.
The group visited the ABC, meteorology, emergency management and fire service agencies to have an increased understanding of the processes and protocols for effective emergency broadcasting and communications.
The Emergency Broadcasting Development Project was funded by the Australian Department of Foreign Affairs and Trade and implemented by the International Development Unit within the ABC. (PNA)