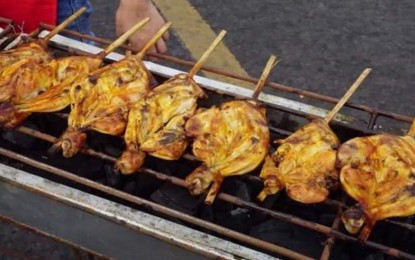 BACOLOD CITY – The City Tourism Office (CTO) here is set to register Bacolod's famed chicken inasal (grilled chicken) with the Philippine Registry of Cultural Property under the National Commission for Culture and the Arts (NCCA).
"This is now in the pipeline. We are preparing the requirements to be submitted to the NCCA," Maria Teresa Manalili, chief tourism operations officer, said in an interview Monday night.
The city seeks to list the chicken inasal as a local important cultural property based on the Chicken Inasal Cultural Property Rights Ordinance passed by the City Council on Nov. 16, declaring the dish as a cultural property of Bacolod.
The ordinance, authored by Councilor Em Ang, provides that the CTO may request any agency or office of the city government to assist them in the full implementation of the registration.
"The CTO is also required to report any status update of the aforesaid registration to the City Council every three months, or if there is an important update, whichever comes first," it added.
Through the legislation, the city aims to preserve and protect its cultural property rights over the chicken inasal, which is gaining world recognition and being acknowledged by many as a staple dish that originated from Bacolod.
In October, online food critic TasteAtlas.com ranked chicken inasal as the fifth best chicken dish in the world, describing it as a "unique Filipino grilled chicken which originated in Bacolod City and became the signature dish of the entire Visayas region".
Among tourists, Bacolod is known for the "Manokan Country," a row of food stalls serving charcoal-grilled chicken inasal located at the Reclamation Area.
In 2018 and 2019, Bacolod staged the Chicken Inasal Festival, featuring several local chicken joints that grilled thousands of chicken pieces on charcoal grills lined up along Araneta Street in the downtown area. (PNA)