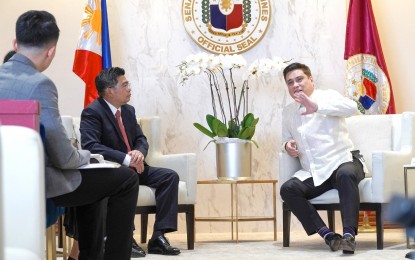 MANILA – Senate President Juan Miguel Zubiri received Vietnamese Ambassador Hoang Huy Chung on Monday and discussed ways to improve strategic partnership ahead of the visit of a Vietnamese parliamentary delegation to the Philippines on Wednesday.
The parliamentary visit will be headed by Vuong Dinh Hue, president of the National Assembly of Vietnam.
In a news release on Tuesday, Zubiri said he discussed with Hoang how the Philippines and Vietnam are connected by a strong shared need to protect their respective sovereignties as two Southeast Asian countries with similar colonial histories and current geopolitical circumstances.
Zubiri stressed a need to "expand exchanges between our parliaments, and boost tourism and business opportunities" while praising Vietnam's steady economic growth, plans, and programs, and long-term visions.
"Vietnam's policy on investments is to be emulated. You have the best foreign direct investments in the region," Zubiri told the ambassador.
Hoang, meanwhile, is eyeing stronger tourist exchanges as Vietnamese are now starting to travel post-pandemic and agricultural partnership in terms of trade, research, development, and technology.
He cited that their agricultural techniques for rice farming were adapted from the International Rice Research Institute at the University of the Philippines Los Baños, where Zubiri obtained an agribusiness degree.
Hoang also said Vietnam highly values Filipino teachers of English to help their citizens improve their language proficiency.
The ambassador had previously paid courtesy calls on Vice President and Education Secretary Sara Duterte and Manila Mayor Honey Lacuna and Vice Mayor Yul Servo. (PNA)