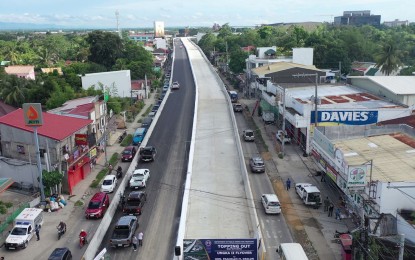 ILOILO CITY – There is no assurance that the PHP680 million flyover project at the junction of Benigno S. Aquino Jr. Avenue and President Corazon C. Aquino Avenue will reopen before Christmas amid the previous pronouncement of the Department of Public Works and Highways (DPWH) to try to have it open to traffic by mid-December.
DPWH consultants have yet to give their recommendation on the needed structural repair of the flyover project that connects Iloilo City to the municipality of Pavia, said Councilor Johnny Y. Young, chair of the committee on engineering, construction, and public works of the Sangguniang Panlungsod (City Council) that conducted an investigation-in-aid of legislation on the project on October 27.
He said "no timeline was given as to when these solutions will arrive."
The flyover was fully opened to the public on September 5 but was closed to traffic 13 days later due to the vertical displacement by 3 mm. of its three piers while there were also cracks and flooding observed in the spans of the flyover, according to Young's report during the regular session of the city council on Tuesday.
"The DPWH central office and its Bureau of Design and consultants have been studying the structural behavior of the bridge since its closure last Sept. 18, 2022 to ascertain the progress and root cause of the settlement of the piers," his report said.
Young added that his office is making a follow-up with the DPWH as to when they intend to start with the jet grouting or the injection of cement under the settling posts to repair the flyover.
In the meantime, as a result of the investigation, Young's committee will push for an ordinance to require proper signage and lighting near construction sites to alert pedestrians and vehicles of danger and maximum tonnage that can be accommodated by flyovers.
"The chairman will pass an ordinance addressing this issue since this seems to be prevalent in most construction sites, both public and private," he said in his report. (PNA)