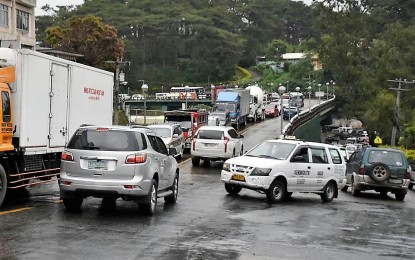 BAGUIO CITY – The city's traffic management working group will revisit its traffic plan and propose measures to minimize bottlenecks.
This came as motorists were trapped in a more than one-and-a-half-hour standstill on the city's roads last weekend.
"We will review it, we will talk with Traffic Management Working Group to introduce innovations and at the same time introduce new measures para maiwasan natin yung nangyari last weekend (to avoid a repeat of the incident last weekend)," Mayor Benjamin Magalong said in an interview on Tuesday.
He said several local activities, aside from national events, such as the annual Philippine Mine Safety Environment Association gathering, scheduled over the weekend, resulted in more travelers plying the city roads.
This is aside from tourists from Metro Manila and neighboring areas who flock for a weekend getaway.
Magalong also noted that the city's small roads are something that is not easy to solve, considering the small land area.
"What is important is we need to make the cars moving," he said.
He, however, said such a scenario is not a daily thing, but a seasonal occurrence. (PNA)