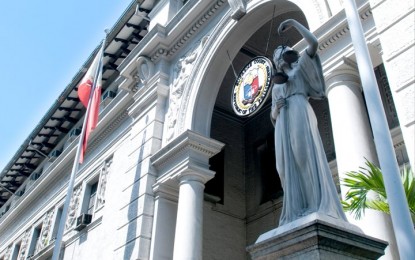 MANILA – The Supreme Court (SC) upheld the 15-year sentence and PHP500,000 fine imposed on a woman found guilty of human trafficking involving a seven-month-old baby who was left under her care by an American couple.
On July 30, 2020, the Court of Appeals earlier ruled against and affirmed the lower court decision that found Lenida Maestrado and Jenylin Alvarez guilty of attempted trafficking.
Maestrado, Alvarez and the couple were charged in 2016 for attempting to simulate the birth and keeping under their custody the infant.
Alavarez, whose case is still on appeal, was made to appear as the midwife.
They conspired to register the child in 2014 as the offspring of American couple Gerald Vincent and Stephanie Jean Locker.
At the time, the two were living in Japan while Gerald served in the US Marines Corps.
The child was discovered in Maestrado's custody after the American couple temporarily left the child when they failed to pass immigration check, as officials noted that the baby looked like a Filipino.
In turning down the appeal, the SC noted in its ruling released on Nov. 18 that Maestrado had personally known that the infant was not the child of the foreign couple.
When the Americans were asked to submit to DNA testing, they abandoned the baby under Maestrado's care.
"She did not report to the authorities or any government agency that she is in custody of a child who was left by a foreigner who is not related to (the baby) AAA. Instead, she maintained custody of AAA, who is not related to her and who was left with her under suspicious circumstances," the SC said.
In 2020, Gerald, 46, and Stephanie Jean, 43, pleaded guilty in South Carolina to one count of conspiracy and one count of making false statements in an application for a passport, according to a report of ABC News.
The US ruling stated that the couple "did knowingly and willfully combine, conspire, confederate, and agree together and with others known and unknown to the Grand Jury, to commit an offense against the United States, that is, to make a false statement in an application for passport" of the Filipino child. (PNA)