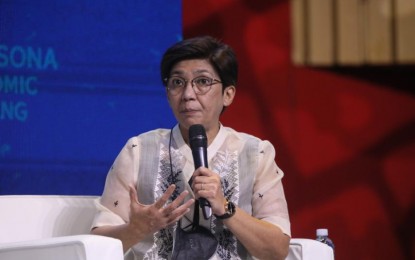 MANILA – The health sector is urged to support the fight against the growing problem of antimicrobial resistance (AMR) through adoption of global strategies and tools.
In her speech at the Philippine Antimicrobial Awareness Week 2022 (PAAW 2022), Department of Health officer-in-charge Maria Rosario Vergeire said AMR poses a significant threat to national and global health as she called for the ramping up of the Antimicrobial Stewardship (AMS) training program.
The AMS is a health system strengthening program that optimizes the use of antimicrobials in healthcare facilities, reduces AMR and health-care-associated infections, and saves healthcare costs, among many other benefits.
"Since the establishment of this AMS training program, the Philippines has already trained 100 percent of Level 3 hospitals, 92.29 percent of Level 2 hospitals and 58.71 percent of Level 1 hospitals in Antimicrobial Stewardship. Overall, 71.32 percent of licensed hospitals (all levels) nationwide have already been trained on AMS," she said.
"While these numbers are laudable, we see that there is a need to further strengthen this program especially as we implement reforms under UHC (Universal Health Care) considering that along with those reforms, we expect to develop more facilities at different levels of the health system," she added.
World Health Organization (WHO) Western Pacific Director of Program Management Dr. Corinne Capuano said antimicrobial resistance is threatening health, lives, and the economy.
"Recent data shows that it contributes to nearly five million deaths a year worldwide and disproportionately affects low- and middle-income countries. WHO remains committed to supporting the Philippines in facilitating multi-sectoral collaboration to advocate and implement the One Health approach," she added.
Vergeire urged the members of the health sector to proactively develop strategies and interventions to mitigate the impact of AMR nationwide and identify opportunities to collaborate and respond to the AMR problem.
"I hope that the renewal of commitment of partner agencies and expression of support of the UN (United Nations) Quadripartite will not just be a symbol but a reality. Likewise, our national accomplishments to mitigate AMR hopefully further inspire and motivate all of us to keep on moving forward and to continue to build essential and meaningful partnerships that will be beneficial in our relentless fight against AMR," she said.
The DOH, together with other member agencies of the Inter-Agency Committee on Antimicrobial Resistance (ICAMR), culminated the week-long celebration of the PAAW 2022 highlighting the importance of the One Health approach to combat AMR fuelled by the Covid-19 pandemic threat.
The ICAMR is a multi-agency committee formed in 2014 chaired by the DOH and the Department of Agriculture, and composed of pivotal government agencies which include the Department of Trade and Industry, Department of Science and Technology and the Department of the Interior and Local Government.
These agencies are tasked to oversee and implement the country's National Action Plan on AMR, which links actions and interventions across the human, animal, food and environment sectors.
The PAAW is held every November to improve awareness and encourage best practices among governments, policy-makers, health care professionals, patients, and the industry who have roles in preventing the spread and emergence and spread of AMR. (PNA)