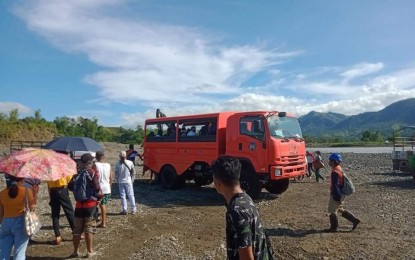 SAN JOSE DE BUENAVISTA, Antique – The access road to temporarily replaced the collapsed Paliwan Bridge in Bugasong town of Antique is currently impassable due to a flash flood caused by inclement weather on Monday.
"The flash flood has caused some damage on the access road that commuters are advised to temporarily refrain from using it," said Antique Provincial Disaster Risk Reduction and Management Officer Broderick Train in an interview on Tuesday.
Train said the Department of Public Works and Highways (DPWH) has used culvert pipes with sand and gravel heaped on top as a temporary remedy for commuters to use after the bridge collapsed at the height of Severe Tropical Storm Paeng last month.
However, a portion of the temporary access road needs to be repaired following the flash flood.
"Commuters are advised to use the bamboo bridge also in Paliwan River constructed by the local government units of Bugasong and Laua-an with the access road still impassable as of today, Nov. 22," Train said.
The bamboo bridge was constructed before the access road of the DPWH.
Train said that it might be quite difficult and takes a long time for commuters to cross the Paliwan River for they just have to walk on the bamboo bridge with only a single motorcycle allowed to pass.
Buses or vans transporting passengers and goods, meanwhile, have to cross the river.
"Drivers of buses and vans have to be cautious when crossing the Paliwan River because of the flash flood," Train said.
The DPWH also provided free rides to commuters crossing the river using their dump truck and other vehicles while the damaged portion of the access road is being repaired. (PNA)