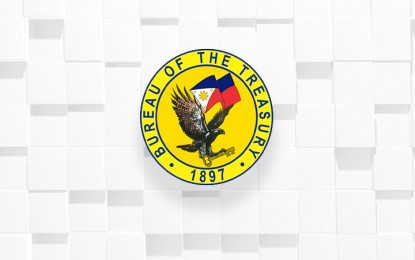 MANILA – The Bureau of the Treasury (BTr) partially awarded on Tuesday the fresh issuance of 20-year treasury bonds (T-bonds).
The debt paper was offered for PHP35 billion and tenders reached PHP70.361 billion.
However, the auction committee awarded PHP27.597 billion.
It fetched a coupon rate of 8.125 percent and an average rate of 8.012 percent.
The partial award for the securities is not new for the BTr, given the upticks in interest rates.
National Treasurer Rosalia de Leon had repeatedly said they expect the rate increases, given the continued hikes in the Bangko Sentral ng Pilipinas policy rates which, in turn, was due to the elevated domestic inflation rate and the impact of tightening in the United States.
The Federal Reserve has increased the Fed Funds Rates by 375 basis points to between 3.75 percent to 4 percent to help bring down the US's four-decade high inflation rate.
Consumer price index in the US further decelerated on an annual basis to 7.7 percent in October after hitting its highest of 9.1 percent in June but it remains way above the Fed's 2 percent target.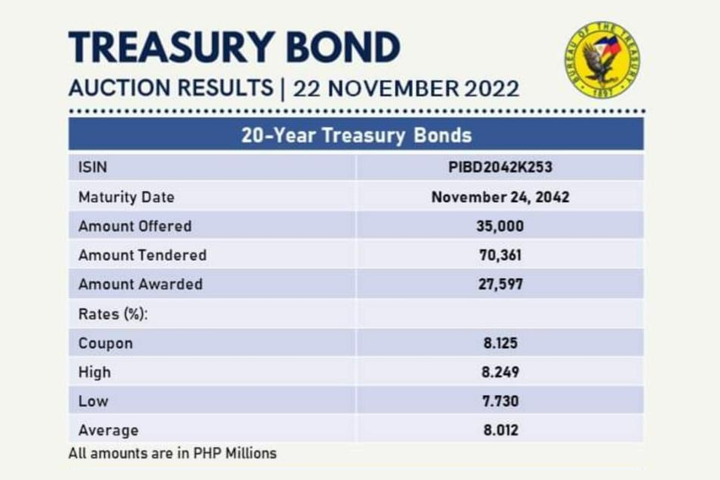 Similarly, domestic inflation rate increased due in part to the upticks in global commodity prices such as oil and some food and food-related items.
In October, inflation rate hit its highest since December 2008 when it accelerated to 7.7 percent from month-ago's 6.9 percent.
Average inflation to date stood at 5.4 percent, higher than the government's 2-4 percent target band. (PNA)