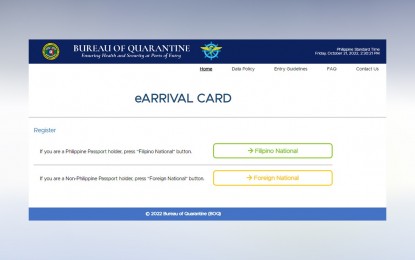 MANILA – Senator Pia Cayetano and Senate Majority Leader Joel Villanueva warned arriving travelers against fake websites that collect payments in exchange for eArrival cards.
In her privilege speech on Tuesday, Cayetano said her own daughter was victimized by the website www.ph-entryform.com that appears on top of other websites every time "earrival card philippines" is searched on Google.
It required Cayetano's daughter to pay USD70.
"I don't know kung how many people ang naloko dito (who were scammed by this). But the reality is there is no payment required to secure this eArrival card. None, zero," Cayetano said.
The lawmaker said the Department of Health (DOH) already asked the National Bureau of Investigation and search engine Google for assistance.
Cayetano said she had also reached out to Google as the fake websites cause damage not only to the country's reputation, but also to returning Filipinos and tourists.
"Again, I have no issue. I would tend to follow the recommendations of the DOH on the requirements. I have an issue that there are people who are taking advantage of our tourism, tourists, and balikbayan (returning Filipinos)," she added.
Villanueva also cited websites philippineshop.com, entranceform-philippines.com, and philippines.form.com which were also reported to have asked for One Health Pass when it was still required as part of Covid-19 protocols.
"Kung titingnan niyo po, ito po 'yung mga posible na iisipin mo na pupuntahan para magtanong kung ikaw ay pupunta o bibisita sa Pilipinas (As you can see, these are the possible [websites] to visit when you inquire in visiting the Philippines]. These are fakes!" Villanueva said.
When One Health Pass was still required, about 2.7 million passengers arrived in the Philippines, according to Villanueva.
"As the economy is picking up and tourist arrivals are increasing, annual international arrivals could actually increase to as much as 12 million passengers," he said, considering the total value of scams that were unreported.
Cayetano's privilege speech will be referred to the Committees on Justice and Tourism for further discussions.
The issue was first brought up during the budget presentation of the Department of Tourism.
One Health Pass was replaced by the eArrival Card on Nov. 1.
Travelers, who must register 72 hours before departure, are also required to submit travel details, biographical information, vaccination status and health declarations.
After registration, travelers will receive a QR (quick response) code to be presented to the airline staff before departure and at Philippine airports upon arrival. (PNA)