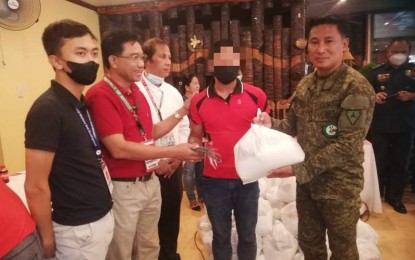 SAN JOSE DE BUENAVISTA, Antique – The return of former rebels (FRs) to the government will bring peace to Antique and boost its tourism industry.
"The FRs' surrender will greatly contribute to the peace and order that tourists from other places will no longer be afraid to visit our beautiful destinations," Antique Vice Governor Edgar Denosta said in his message during the release of the twice-a-year PHP5,000 financial assistance and relief goods to each of the 39 former members of the New People's Army (NPA) on Tuesday.
Denosta added that some of the beneficiaries of the financial assistance are from barangays Imparayan, Igpanulong, and Cabladan, which had been declared as part of the Sibalom Natural Park through Republic Act 11038 and was opened to tourists on March 1 this year.
The natural park is home to some endemic flora and fauna, such as the Rafflesia, Visayan Warty Pig, Visayan Tarictic Hornbill, and Visayan Spotted Deer.
"With the peace and order in these barangays, the tourists will be interested to see also the beautiful views and be willing to spend money for their food and souvenirs during their stay there," he said.
The presence of tourists will redound to the creation of employment for the local people, including the surrenderers.
Denosta said he is contemplating on passing legislation urging the Technical Education and Skills Development Authority (TESDA) and the provincial government to provide skills training on tour guiding, food preparations, or housekeeping to enable them to have sustainable livelihood.
"The PHP5,000 financial assistance to be given to the FRs every six months will not be enough for their needs so I am thinking of letting them undergo skills training to sustain them," he said.
DSWD 6 (Western Visayas) employee Yasser Maminggen said the financial assistance is part of the commitment of their department to release cash assistance to the former rebels every six months as additional support aside from their technical assistance as they transition to normal society.
The financial assistance covered the January to June 2022 period.
Carol, a former rebel from Culasi town, said she is grateful for the assistance.
She said she had lived as a rebel for seven years and met her husband.
Carol surrendered to the government two years ago after her husband was arrested.
Her husband, a suspect in the killing of the former mayor of Culasi town in 1986 and the ambush of a policeman in Sebaste in 1990, is currently detained at the Bureau of Jail Management and Penology. (PNA)