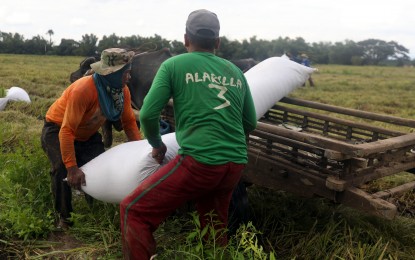 MANILA – The Marcos administration's directive to immediately respond to the needs and uplift the lives of agrarian reform beneficiaries (ARBs) will be more achievable once the Department of Agrarian Reform fine-tunes its policy guidelines.
In a message sent to the Philippine News Agency on Tuesday, Secretary Conrado Estrella III said DAR is scheduled to finalize the new policy issuances in order to "improve the implementation of the Comprehensive Agrarian Reform Program (CARP), meet its performance targets and be responsive to the needs of the ARBs, landowners and the indigenous peoples (IPs)."
Estrella said the DAR Policy Review and Formation Committee (PRFC) makes a yearly revisit and revision of existing policies and guidelines.
"Ito ay ginagawa upang linawin ang mga probisyon o proseso na nakasaad sa mga sinusunod at pinapatupad ng mga guideline/policy. Maaari ring magpalabas ng mga bagong polisiya bilang pagtupad sa utos ng batas o sa utos ng korte (This is done to clarify the provisions or processes stated in the guidelines/policies. New policies may also be issued in compliance with statutes or court orders)," he said.
Among the policies being polished pertains to the provisions of Republic Act (RA) 3844 or the law to ordain the agricultural land reform code and to institute land reforms, including the abolition of tenancy and the channeling of capital into the industry; RA 6657, an act instituting the CARP to promote social justice and industrialization, providing the mechanism for its implementation and for other purposes; and RA 9700, which strengthens the CARP, extending the acquisition and distribution of all agricultural lands, instituting necessary reforms, and amending certain provisions of RA 6657.
The PRFC, Estrella said, will finalize, among others, the guidelines that will determine the just compensation of home lots of Hacienda Luisita Inc. in Tarlac distributed to farmer-workers.
Guidelines on the distribution and titling of landed estates, turned over to DAR by the Land Bank of the Philippines, will also be finalized.
Administrative Orders will be issued on the forfeiture of awarded landholdings, and the determination of the amount of the application bond to guarantee against premature conversion.
"To look into the case of the IPs nationwide, the DAR and the National Commission on Indigenous People will issue a joint Administrative Order on the parcelization of landholdings with Certificates of Land Ownership Award found to have overlapped within ancestral domains and ancestral lands," Estrella said.
He emphasized that as committed by President Ferdinand R. Marcos Jr., DAR will look after the welfare of the farmers, improve their lives through support services, and address social justice through land reform. (PNA)