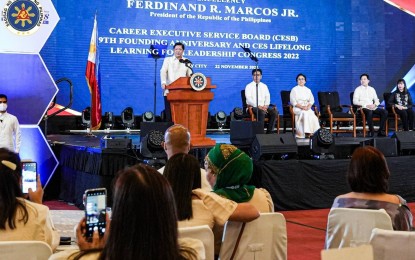 MANILA – President Ferdinand R. Marcos Jr. on Tuesday called on career executive service officers (CESOs) to be on the lookout for corruption as the national government implements measures to "reinvent" the bureaucracy.
"Let us be vigilant against temptation and corruption and other acts that diminish the public trust," Marcos said during the 49th Founding Anniversary of the Career Executive Service Board (CESB) in Pasay City.
He reminded CESOs that his administration puts "utmost importance" on the people's welfare and the improvement of their lives, adding that they should do the same.
"Remember that we are here not for our own gain. We are here to bring forth a government that provides for the needs of the people," he said.
Marcos expressed optimism that CESOs would lead by example and inspire other civil servants to be "dedicated, able, fearless, and honest" in serving the people.
"I know I'm being repetitive about this but it is really central to our success – the institutional capacity, the development of human capital, the retraining, the upskilling, the reskilling. All of these things need to be done," he said.
He urged officers to actively take part in pursuing his administration's Eight-Point Socioeconomic Agenda, which contains policies that promote social justice, ensure food security, accelerate progress, protect the environment, and address climate change.
Marcos likewise assured a strong commitment to enhancing the working conditions and professional advancement of all CESOs.
"As leader, as President, I cannot do my work without all of you, and that's why you must be the best that you can be. We must give you the best conditions, the best training, the best capabilities, and that is my job," he said. "So together let us address the growing needs of our fellow Filipinos. Let's provide them with the opportunity to lead meaningful and dignified lives."
Marcos congratulated the 96 individuals who recently passed the CES Eligibility Examination, adding that they would be integral to creating a more agile and responsive bureaucracy.
"All of you have my trust and my confidence. I, therefore, hope that you will join me in reinventing this bureaucracy. Let us reinvent ourselves and reinvent the bureaucracy," he said.
Meanwhile, the President also vowed to review issues affecting the CESB, including Memorandum Circular 3. (s. 2022).
"Let me assure our Career Executive Service Board and the affected CESEs occupying third-level positions in the government that the Office of the President is going to review the said memorandum and look into the other hurdles faced by many CESEs in obtaining CES eligibility," he said.
The Career Executive Service (CES) is the managerial class in the group of career positions in the Philippine civil service.
The CES was created by Presidential Decree 1 to "form a continuing pool of well-selected and development-oriented career administrators who shall provide competent and faithful service." (PNA)