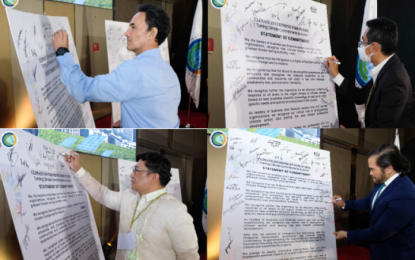 MANILA – Multi stakeholders vowed to boost investments in climate and sustainability initiatives and accelerate just transition to achieve a climate-smart and climate-resilient Philippines by 2050.
The stakeholders, both from private and public sectors, made this commitment after top environment and climate officials urged them to invest more in climate action and work together to achieve climate-resilient development during the 15th Global Warming and Climate Change Consciousness Week (CCC Week 2022) that began on November 21.
Government leaders, business and financial sectors, and civil society organizations signed a statement of commitment ensuring the availability and accessibility of financing mechanisms for climate and sustainability projects.
It also supports the acceleration of the Philippines' low-carbon development and just transition from coal to renewable energy.
Recognizing the imperative for an effective, collective response to the urgent threats of climate change, the commitment also includes the stakeholders' deployment of innovative interventions with sustainable, positive impacts on supply chains and value chains.
New Zealand Ambassador to the Philippines Peter Kell, Securities and Exchange Commissioner McJill Bryant Fernandez, Philippine Stock Exchange, Inc. Chief Operating Officer Roel Refran, and Climate Change Commissioner Albert P. dela Cruz led the ceremonial signing during the Climate Investment Forum (CIF) 2022, which was organized by CCC, in Quezon City on Monday.
"In the spirit of 'No One Should Be Left Behind' in the Sustainable Development Goals, this statement of commitment is not just for us, but for our children and the children of our children," dela Cruz said.
"Fighting the impacts of climate change comes at a cost. As a developing country that is at risk, the Philippines needs all the help we can get from both the public and private sectors, and indeed the international community through investments on adaptation and mitigation actions" Vice Chairperson and Executive Director Robert EA Borje said.
With the theme "Sama-samang Tumutugon sa Hamon ng Nagbabagong Klima", CCC Week 2022 draws together various climate change and environment stakeholders in the Philippines in a collective push toward transforming climate change commitments into action towards a climate-smart and climate-resilient Philippines.
Under Presidential Proclamation 1667 s. 2008, the CCC spearheads the annual observance of Global Warming and Climate Change Consciousness Week every November 19-25, aimed at raising consciousness on addressing the impacts of the changing climate.
"The private sector—both being contributory and vulnerable to climate impacts—must see the value of these investments in growing their businesses, insulating their people and operations from climate shocks, avoiding emissions that exacerbate global warming and climate change, and how these can ultimately influence our ways of life for the better," CCC Commissioner Rachel Anne Herrera said.
Private, public partnership
During the closing ceremonies of CIF 2022 on Tuesday, Aboitiz Group President and Chief Executive Officer as well as the lead for the Private Sector Advisory Council Sabin M. Aboitiz emphasized that a government and private sector partnership aligned towards sustainability targets are critical for shared success for climate change risk nation like the Philippines.
"As the President (Ferdinand R. Marcos Jr.) himself said, the fight against climate change can only be successful if everyone is committed and determined to steer our practices and systems towards a greener direction. Victory will not come by defeating a visible enemy. It will come in certain moments when we can see that we are gradually averting a global crisis," Aboitiz said.
He said their group of companies is committed to the highest environmental, social, and government standards and practices.
"By setting bolder targets to better serve our communities and customers, we are reaffirming this commitment, which is for a hundred years, has been consistent in building a sustainable future for generations to come," he added.
Environment Secretary Maria Antonio Yulo-Loyzaga emphasized the importance of investing in initiatives to pursue climate resilience.
"More investments are still needed if we are to make transformative strides to achieve climate-resilient development. The coming years will present more opportunities to show how the whole-of-society effort can shape the future of our country," Loyzaga said.
She cited the record-high PHP453.11 billion for climate change adaptation and mitigation under the FY 2023 National Expenditure Program, a 56.39 percent increase to this year's PHP289.73 billion.
In her recorded message, Senator Cynthia Villar, chair of the Senate committee on environment and natural resources, said the impacts of climate change on biodiversity, food security, and communities are becoming even more pronounced, thereby needing serious and urgent attention from all.
"We should take climate change more seriously and urgently. We should rally all communities to institute appropriate strategies to (this) make environment climate-resilient and not to initiate activities that would aggravate the sufferings of the people," Villar said. "Filipinos are called to do their parts to counter the ill effects of climate change."
Rep. Edgardo Chatto, chair of the House of Representatives climate change committee, highlighted the need to collectively strengthen the capacities of communities to reduce loss and damage.
"The vulnerability of our society is measured in three aspects: Susceptibility, Coping, and Adaptability. We may not control the natural events, but we need to strengthen our susceptibility measures, our coping mechanisms in minimizing damage, adaptation or our long-term strategies to anticipate changes to mitigate or avoid the adverse effects and impacts," Chatto said.
Borje thanked their partners from the national and local governments, the business sector, the private sector, the academe, and civil society for joining us in this mission.
"The commission shall continue to bring everyone together to ensure a dynamic synergy as we pursue greener and more resilient pathways towards a sustainable future," he added. (PNA)