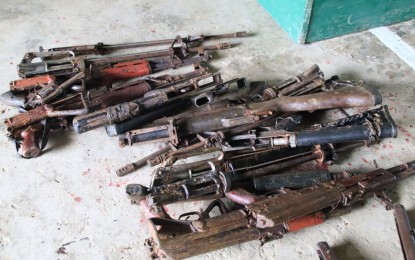 TACLOBAN CITY – A fighter of the New People's Army (NPA) has surrendered to the Philippine Army in Samar province and also turned over 19 firearms.
The Army's 46th Infantry Battalion reported on Wednesday that Anthony Encinas, 19, walked for 37 hours on Nov. 18 from the mountains of Basey, Samar to his family in Antol village in Calbiga, Samar to give himself up to authorities.
Encinas brought with him a .45 caliber pistol when he surrendered to soldiers on Nov. 19 while the 18 other cache firearms were retrieved a day after in Calbiga town.
"I surrendered as my comrades and cadres frequently had disagreements. I wasted one year of my life," Encinas told soldiers.
He was part of Bugsok Platoon of the NPA's Eastern Visayas Regional Party Committee operating in Samar province.
Philippine Army's 8th Infantry Division (ID) spokesperson Capt. Ryan Layug said the rebel yielded four M14 rifles, six M16 rifles, four AK47 rifles, a shotgun, a KG9, a .38 caliber revolver, an M79 GL, a .45 cal pistol, and 14 magazines of AK47.
Layug said Encinas surrendered just days after soldiers of the 46th Infantry Battalion (IB) and former NPA members held a dialogue with parents and relatives of active NPA members in Calbiga town.
Among those who attended was Thelma Encinas, Anthony's mother.
"When Anthony showed up at their house on the night of Nov.18, Thelma was surprised since they had no contact with Anthony for one year. She told her son to immediately surrender to the military," Layug added.
In a statement, 8th ID Commander Maj. Gen. Camilo Ligayo lauded the Army's 801 Brigade and 46th IB for the accomplishment.
"I congratulate both units for their effort to reach out to parents and relatives. This is a result of local peace engagement, which is effective in ending the local communist armed conflict," Ligayo said in a statement.
He appealed to families and relatives of active NPA members to help convince them to surrender. (PNA)