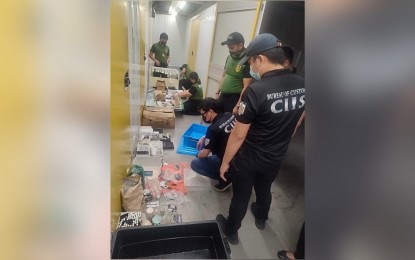 MANILA – Authorities headed by the Bureau of Customs (BOC) seized about 500 grams of suspected cocaine with an estimated street value of PHP2.65 million during a raid at a warehouse in Taguig City.
In a statement, the BOC said the operation was conducted at a storage facility at the AFP-RSBS Industrial Park, Km. 12, East Service Road, Taguig City at about 10 p.m. Tuesday.
The operation also yielded contraband, such as kush, vape cartridges with suspected marijuana oil, and other paraphernalia.
The raid was in connection with the recent joint operation by the BOC, National Intelligence Coordinating Agency (NICA), and the Armed Forces of the Philippines in Ayala Alabang Village, Muntinlupa City last week where they seized PHP149.6 million worth of suspected shabu.
Customs Commissioner Yogi Filemon Ruiz said the accuracy of the reports they gathered enabled them to act immediately upon the issuance of his Letter of Authority.
"One of our best assets is the partnership we have with different government agencies. We maximize that relationship by bringing information to the table and acting on it immediately. That's also why many of our operations against illegal drugs, in particular, have been successful… because we have an all-hands-on-deck approach. Since assuming this position, my standing order – and I have been very firm on this – is for the BOC and other partner agencies to pour all our resources against contrabands, especially illegal drugs," Ruiz added.
The raid was in coordination with Customs Intelligence and Investigation Service (CIIS) - Manila International Container Port, Philippine Drug Enforcement Agency (PDEA) - Intelligence and Investigation Service, Philippine National Police, and NICA.
The seized pieces of evidence will be turned over to the PDEA Laboratory Service "for qualitative and quantitative examination" and the filing of appropriate charges.
CIIS Director Jeoffrey Tacio underscored the vital support the BOC receives from the Marcos administration.
"Eliminating the illegal drugs trade and of all other smuggled products is the cornerstone of this agency. These operations show our commitment to that cause. Moving forward, we have intensified this fight and have fulfilled the tasks promised by our President of protecting the country's borders, market, and making sure our society remains free from drugs," he said.
(PNA)