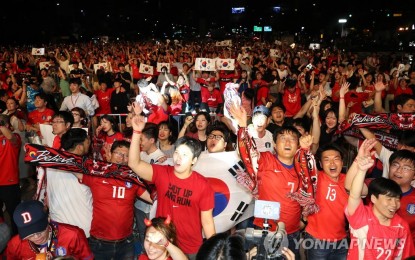 SEOUL – About 600 police personnel will be deployed for crowd control in Gwanghwamun Square in central Seoul where thousands of sports fans are expected to gather for street cheering as the national team faces Uruguay at the World Cup Thursday.
The Seoul Metropolitan Government has permitted the Red Devils, the official supporters' group for the national soccer team, to use the square for street cheering during the World Cup, about a month after a deadly crowd crush in Seoul's Itaewon neighborhood killed at least 158 people.
"A total of 41 police officers, along with eight police squads (comprising about 560 personnel), will be deployed in Gwanghwamun Square on Thursday to prevent overcrowding," an official at the National Police Agency said.
The national team will face Uruguay in the World Cup's Group H and thousands of sports fans are expected to join the street cheering this Thursday.
In cooperation with the Red Devils and the Seoul metropolitan government, police will conduct safety checks around Gwanghwamun Square, nearby subway entrances, and other surroundings before the cheering event, the official said.
Police will conduct real-time checks on crowd levels to prevent overcrowding and disperse fans to use different paths when leaving the square after the match.
Police will also conduct crowd control in nearby nightlife districts where a large crowd is expected following the game.
A team of special police commandos will also be dispatched to search the area for any explosive or terrorist attack. (Yonhap)