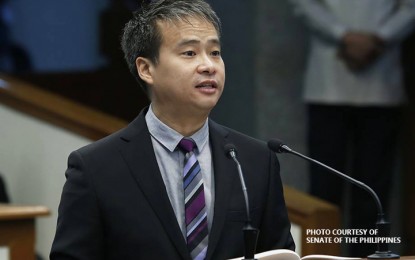 MANILA – To improve the government's efficiency in operations and delivery of public services, Senate Majority Leader Joel Villanueva has filed a bill to review and evaluate the government's organizational structure, processes and mandates.
In his Senate Bill 1474 or an "Act rightsizing the national government to improve public service delivery", Villanueva said the government is the biggest employer in the country so it is necessary to regularly review its operations.
Records from the Department of Budget and Management (DBM) showed that the total number of permanent positions for 2023 is 1,943,316, of which 1,772,512 (91.2 percent) are filled and 170,804 (8.8 percent) are unfilled.
Data from the Civil Service Commission (CSC) also shows that the government hired 642,077 non-permanent government workers under Job Order or Contract of Service status as of June 30, 2022.
The Department of Public Workers and Highways employed 22,457 JO/COS workers; 12,465 were hired by the Department of Education; 8,188 were hired by the Department of Health; and 7,340 were hired by the Department of Social Welfare and Development.
The measure, Villanueva said, aims to implement an organizational and systemic reform to ensure a more effective, efficient, responsive, and progressive Philippine government.
"This bill seeks to implement a Rightsizing Program, taking into consideration, among others, the role of the government and the scope, level, and prioritization of programs, activities and projects in accordance with the 1987 Constitution, political and socio-economic contexts and objectives of the government, and fiscal resources. " the senator said in his explanatory note.
The bill also seeks to strengthen the functions of agencies, scale down or discontinuation of functions or programs that can be undertaken by the private sector or can be devolved to local government units, review the staffing needs of the government to address the growing number of non-permanent government workers despite the existence of unfilled positions and transfer or integrate functions from one agency to another which could better perform the same.
Villanueva also said "rightsizing" is not the same as "downsizing."
The aim of the measure, he added, is to reach the optimum structure and size of government agencies that will ensure efficient and effective delivery of services and to ensure the attainment of the country's societal and economic development goals and objectives.
The measure also covers all government offices from the Executive, Legislative, and Judiciary branch and government-owned or -controlled corporations, Constitutional Commissions, the Commission on Human Rights and the Office of the Ombudsman. (PNA)