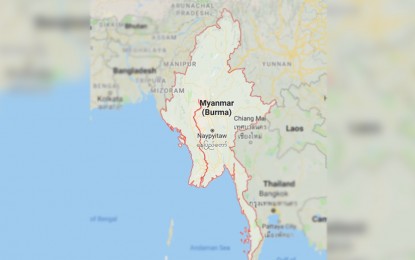 MANILA – The Department of Migrant Workers (DMW) has sounded the alarm over illegal recruitment activities that offer "customer service relations" or "technical support" staff in Chinese-operated companies along the border of Myanmar and Thailand.
In a press release on Wednesday, DMW Secretary Susan Ople said she has already met with 10 of the 12 rescued victims of a Chinese call center based in a remote area in Myanmar near the border of Thailand.
DMW has already issued an advisory against online offers for temporary work in Myanmar for POGO (Philippine Offshore Gaming Operators)-run establishments which in reality, are forced labor and human trafficking hubs in disguise.
In an interview over a news program, Ople said the victims narrated their experiences to her.
"Ang employer nila, ang description sa akin parang call center ang setup, me team leader, tapos puro Chinese (Their employer, the description to me is like a call center setup, there is a team leader, then it's all Chinese," she said, adding that, "nasa liblib daw pinasok sila via Thailand, so ang ticket nila ay via Thailand, tapos binyahe sila ng mga otso oras to Myanmar na liblib ang lugar, sa tabi ng ilog. Pagdating nila dun, 14 hours ang shifting nila (They are said to be in a remote area via Thailand, so their ticket is via Thailand, then they traveled for about eight hours to Myanmar which is a remote area, next to the river. When they arrive there, their working shift is 14 hours).
She said that victims have gone through serious mental anguish and have been threatened with physical abuse.
Ople expressed gratitude to Senator Risa Hontiveros as the rescue was done in coordination with the senator's office, the DMW, and the Department of Foreign Affairs (DFA).
"Our department wishes to thank Senator Risa Hontiveros. It was actually a communication between one of the victims and the staff of Senator Risa that triggered a lot of things. She met one of the victims yesterday and I met around 10 of the human trafficking survivors," she said.
Ople said the victims narrated to her that they were recruited online via Facebook and promised a monthly salary of PHP40,000 for six months of work as "data encoders, customer service relations and technical support" staff.
She added that they were also made to believe that they would be working in Thailand but instead ended up in a "technopark" in a remote area in Myanmar.
Upon arrival at their place of work, each victim was assigned to a cubicle and given instructions in Chinese that had to be translated via Google Translate.
They were made to enter dating apps and other social media platforms to search and cultivate relations with potential bitcoin investors.
"Senator Risa Hontiveros is correct when she said in her press conference, that these POGO-type of operations in Myanmar and in other parts of Asia as well, do operate and are luring Filipinos to work there with promises of a six-month contract and a high salary. Medyo sleek ang operations ng Chinese syndicates na involved (the operation of the Chinese syndicate is a bit sleek), and I will not be surprised if there are syndicates also operating in remote areas here in the Philippines," Ople said.
Deployment of OFWs (overseas Filipino workers) to Myanmar has been suspended earlier through Advisory No. 54 signed by Acting POEA (Philippine Overseas Employment Administration) Administrator and DMW Undersecretary Bernard Olalia on Aug. 2, 2022.
The advisory warns aspiring OFWs from applying for jobs in Myanmar due to the continued violence and armed conflict in the country as well rising incidences of illegal recruitment and human trafficking.
Meanwhile, Ople has already directed the Overseas Workers Welfare Administration (OWWA), an attached agency of the DMW, to assist the rescued victims and provide overnight accommodations as well as shuttle services to their homes in Metro Manila, and air transit for those returning to the provinces.
A financial assistance amounting to PHP10,000 were given to each of the victims by the OWWA as Ople assured assistance in job placements either overseas or locally.
Non-government organization Ugat Foundation Incorporated provided the victims spot counselling and psycho-emotional evaluation.
Ople said the DMW's Anti-Illegal Recruitment Branch (AIRB) is now working with the Philippine National Police's Women and Children Protection Center (PNP-WCPC) in the documentation of the testimony of the victims in preparation for the filing of human trafficking and illegal recruitment cases. (PNA)