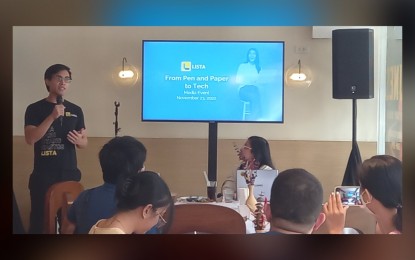 MANILA – Budgeting, either for an individual or a family, is a goal but the necessity to really be serious about it rose when the pandemic hit since many people lost their income sources.
Aaron Villegas, co-founder of Filipino-owned financial management app Lista, said they have already reached 1.4 million downloads nationwide since the mobile application was launched in November 2021.
The app provides users with purpose-driven solutions for personal and business finance, such as sales target, inventory and savings, with the latter boosted by a savings challenge to encourage more users to be financially savvy.
Villegas, in an interview, said they did not expect the volume of app downloads to immediately rise but noted this was driven partly by users who made Facebook groups promote Lista, and discuss among themselves how to better manage their money.
"The reason for that is if you have a certain level of salary, it's hard to increase that. You just rather learn on how to improve and manage what you have," he said.
Citing data, Villegas said around 30 to 40 percent of the app's users use the savings challenge, which was launched last September.
"A large portion of our user base use it to save up for education, a house and motorcycle," he said.
Villegas is optimistic that more people will tap the savings challenge, noting that based on the users' statements on the Facebook groups, some have achieved successes on their goals.
Lista launched on Tuesday the budgeting feature of the app, which Villegas said is aimed at encouraging their users to further improve their finances.
The app provides suggestions such as the 70-20-10 rule, where 70 percent of the income should be used for the needs, 20 percent for savings and 10 percent for wants.
Lista co-founder Khriztina Lim, during the same briefing, disclosed the results of their survey regarding the items that Filipinos save up for and plans to spend on during the holidays.
On top of the list is motorcycle, which has a target budget of around PHP54,000; followed by mobile phones, PHP24,000; travel, PHP23,000; and Christmas celebration needs, PHP17,000.
Lim said they put up Lista to help Filipinos "raise their quality of life, one step at a time."
"Beyond the holidays, budgeting is a great way to gain control over your income, which is why we've made it easier for Filipinos to create a budget, stick to it and use it as a tool to gain greater financial freedom," she said.
Lista is a Series A start-up firm with a USD5.8 million capitalization from regional investors, such as Openspace Ventures, Saison Capital, Monde Nissin and 1982 Ventures.
Villegas said there are bids to further increase investments and they are in talks with investors.
"We expect that we would do another round but regarding the time, I cannot give specifics," he said. (PNA)