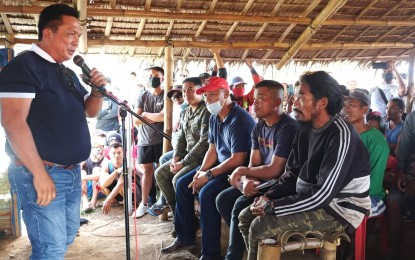 DUMAGUETE CITY – Negros Oriental Gov. Roel Degamo on Wednesday told some 337 landless farmers in a land dispute in Siaton town that each of them will receive a PHP3,000 cash aid under the Assistance for Individuals in Crisis Situations (AICS) program.
Degamo led the Local Peace Engagement (LPE) dialogue in Barangay Napacao to thresh out pressing issues involving informal settlers who are facing ejectment proceedings filed by a private lot owner.
"To give immediate attention to your current situation, I will give as a band-aid solution PHP3,000 each from the AICS of Senator Imee Marcos pending the resolution of your cases while we and our partner agencies also find ways for a more permanent answer," Degamo said in mixed English and Cebuano.
The dialogue of the LPE cluster of the Task Force to End Local Communist Armed Conflict (TF-ELCAC) came about after a series of meetings with the Paglaum sa Mag-uuma sa Negros Oriental (PAMANO) members, who are also seeking inclusion in the land reform program apart from the eviction case filed against them.
Degamo said he will push for the utilization of some 500 hectares of government land in Siaton for them if they are evicted from their current location.
Brig. Gen. Leonardo Peña, the Philippine Army's 302nd Brigade chief; Lt. Col. Roderick Salayo, 11th Infantry Battalion commanding officer, and officials from the Department of Agrarian Reform, Department of Environment and Natural Resources, Commission on Human Rights, Philippine National Police and Siaton town officials were present during the dialogue.
While the PAMANO conflict is not directly related to the communist insurgency, the Army officials said the TF-ELCAC deemed it necessary for them to step in and help find ways to resolve the land dispute issues to prevent the group from being "infiltrated" by the communist insurgents.
The gathering is also part of the government's whole-of-nation approach to peace and development, they said.
"We are here to listen to your issues and concerns so that government agencies can address them," Peña said in Filipino. "Do not be swayed by those who are just trying to deceive you. We all know that undeniably, there are still left-leaning groups in government, such as the Makabayan bloc that aim to bring down our government."
Some PAMANO members recently surrendered eight firearms and ammunition to the 11IB and the local police following negotiations.
The farmers claimed they had to arm themselves for protection although Salayo said there was no indication that this was in any way connected to the insurgency.
He also said intelligence reports showed that a certain personality from a left-leaning party-list group is in contact with PAMANO in the guise of assisting them in their quest for land ownership.
"This is what we call agrarian revolution where the communist insurgents entice the poor and landless to rise against the government by assisting them in their petitions for inclusion to the Comprehensive Agrarian Reform Program (CARP)," he said in mixed English and Cebuano.
"And that is why we are here to protect these people and prevent them from being exploited by the CPP-NPA," he added.
He said not all of those occupying the private land in Napacao are from Siaton, as many come from other towns after hearing of the "fake news" that the property there was to be given for free.
Degamo told the informal settlers to sign a "petition" or "letter request" addressed to the DAR to review and hasten the resolution of their cases and to the DENR for possible land distribution that they may one day own a piece of property that they can till.
The governor promised that the LPE cluster will return soon once they have sat down with partner agencies to find solutions to the PAMANO's land dispute and other related concerns. (PNA)