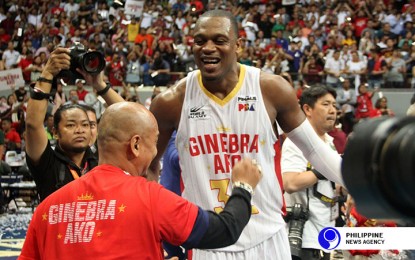 MANILA – Barangay Ginebra resident import Justin Brownlee took another step closer to becoming a Filipino citizen after the House of Representatives approved on second reading a measure seeking to grant Filipino citizenship to the American basketball player.
During Wednesday's plenary session, the chamber passed via viva voce House Bill 6224 in order to allow Brownlee as a naturalized player of Gilas Pilipinas to the FIBA Basketball World Cup next year.
The committee report of the bill recognized Brownlee's contributions to the Philippines, noting that he led the Barangay Ginebra Gin Kings to its first championship in 2016 and gave the team two more titles in the 2018 PBA Governor's Cup and the 2018 Commissioner's Cup where he was also named Best Import.
It also pointed out that aside from being an athlete, Brownlee has actively supported local sports programs, activities and community services in Filipino communities.
"He embodies the Filipino values of perseverance, determination, and dedication to work in service to the country, and has a sincere desire to live in the Philippines as a Filipino citizen," it read.
The bill states that upon the taking of the Oath of Allegiance to the Philippines before an officer duly authorized to administer such oath, registration of the same with the Bureau of Immigration, and issuance of his Certificate of Naturalization, Brownlee shall enter upon the full enjoyment of Philippine citizenship.
A counterpart measure in the Senate was already approved by the Senate Committee on Justice and Human Rights on Monday. (PNA)