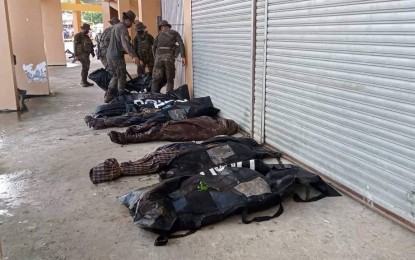 TACLOBAN CITY – Six New People's Army (NPA) fighters were killed in a fierce gun battle with government forces in an upland Imelda village in Las Navas, Northern Samar early morning of Wednesday.
Capt. Valben Almirante, spokesperson of the Philippine Army's 803rd Infantry Brigade, said in a phone interview that the firefight destroyed a major lair with about 60 rebels.
Government troops met strong resistance en route to the rebel's heavily fortified hideout which prompted the request for close air support and artillery fires, according to Almirante.
"After the firefight, several rebels were wounded since there are many blood stains in the area. Some managed to escape from our troops. We have to use air assets to attack them since their hideout is surrounded by prohibited anti-personnel mines," Almirante told the Philippine News Agency (PNA), adding that no one was hurt from the government side.
Troops recovered 16 firearms and several personal belongings.
Government forces managed to locate the lair through information given by the villagers.
The official said that the slain rebels were from the group belonging to the NPA's Eastern Visayas Regional Party Committee and which they have been hunting down for attacking Dorillo village in Jipapad, Eastern Samar where two soldiers were killed.
The same attack injured a 10-year-old child and two soldiers tasked to monitor the implementation of government projects in the area.
The attack also left hundreds of bullets that pierced at least 15 houses, community stage, communal toilet and the newly constructed village hall.
Imelda village is the most remote in Las Navas town that can be reached through two hours of motorboat ride and three hours of hiking. It is close to the boundary of Eastern Samar province.
In a statement, Philippine Army's 8th Infantry Division commander Maj. Gen. Camilo Ligayo said the military will never allow rebels to penetrate villages.
"People have been complaining of their extortion and terroristic activities. We are the protector of our people and locals appeal to us to secure them. They have been providing information to us about the presence of NPA in their areas," Ligayo said in a statement.
The Army's 803rd Infantry Brigade has been monitoring the movement of four remaining guerrilla fronts in Eastern Visayas, all operating in Northern Samar.
The military estimated that there are still about 300 NPA fighters belonging to the four fronts and their supporters hiding in the mountains. (PNA)